Dexter Season 5 Spoilers: Premiere Pics, Theme and More
Matt Richenthal at .
Comic-Con is upon us.
At this annual event, reporters and fans gather to get the latest on upcoming movies and TV shows. We were fortunate enough to be in the crowd for yesterday's panel discussion with the stars of one of TV Fanatic's favorite shows, Dexter.
It returns for its fifth season on September 26 and anticipation has never been higher, considering the shocking event that concluded season four.
Based on footage we watched, we can confirm that the season premiere picks up right where we left off in December. Asked about Dexter's reaction to Rita's death, executive producer Chip Johannessen  said:
"This is something he brought on himself. We don't continue the facts of Season 4 for very long, but the set of events that he brought upon himself very much permeate Season 5."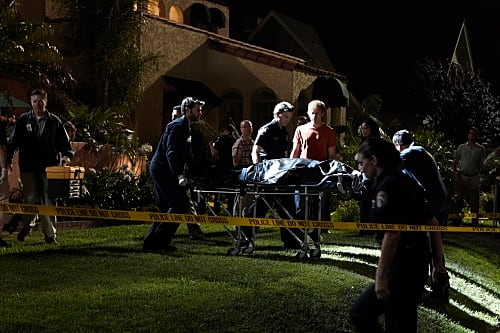 Initially a suspect in the murder, Dexter soon takes on a different focus said star Michael C. Hall:
"He's motivated by a desire to make amends for that even if he doesn't consciously know it. He needs to make things right, even if it feels impossible."
Dexter is now a single father, of course - and while Deb will help take care of Harrison, Astor and Cody, Johannessen spoke on the emotional gamut his main character will run:
"[The theme of] this season is not so much about Dexter's sheer body count, but that he's in a much more emotionally ragged place than he's ever been. And this thing that always calmed him and brought him peace doesn't work anymore."
Referring to the character played by Julia Stiles, Johannessen said she would be at the center of a "new type of relationship" for Dexter. He added that there would NOT be one main villain on season five, but "more balls in the air" with which Dexter must deal.
We can't wait for the premiere. Feast your eyes on the following photos from it to get extra excited for the evening of September 26:
Matt Richenthal is the Editor in Chief of TV Fanatic. Follow him on Twitter and on Google+.