This week's installment of Burn Notice ("Neighborhood Watch") was another excellent episode, as Matt Nix continues to deliver each with terrific action, great dialogue, and awesome character interaction.
I thought Fiona's jealousy streak at Michael flirting with the assassin Kendra was ideally played. It was not over done or under done, but just enough to get a giggle or two. As a matter of fact, two of the quotes from this week below are featured from Michael and Fiona's banter. 
Have I mentioned how much I love Madeline? Well, as mentioned previously, she reminds me so much of my own mom that episodes where her and Michael have heart touching moments I have to call my mother.
This week was no different; her discussion with Michael about bullies brought back images of my own childhood and being chase home from elementary school.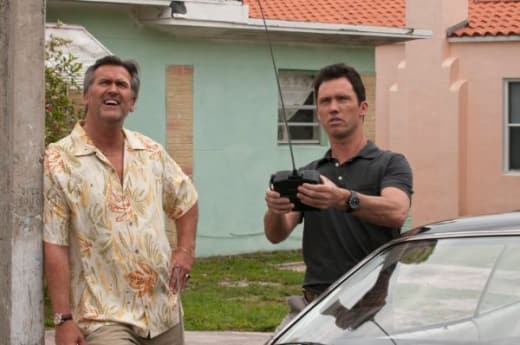 My only disappointment (and it was minor) was Michael's weak portrayal of a drug dealer. He seemed to be channeling one part "Sugar" (his former neighbor, and drug dealer) and one part pimp. Maybe he was trying to do much of Sugar and it made it feel more forced and flat than many of his other personas have been.
However, that minor disappointment aside. I did think the concept that David, the clinic owner didn't want their help and actually disliked Michael for most of the episode. It was an interesting twist on the Robin Hood-esque nature of Michael's work given that David did not want to break the law even to stop drug dealers, believing the cops would handle it.
It was a nice "Yin" to Michael's "Yang" for the episode, and of course their Yin and Yang working together finally created harmony at the end.
Lastly, this brings me to "Kendra" (as she doesn't give any other name). She is amazingly well played by Navi Rawat. I wonder how many more layers there are to Kendra and I am curious if they are going to make her truly "evil" or if she will end up working with Michael in some way.
I am sure we'll find out in the episodes to come. However, as there won't be a new episode for two weeks, we have a small wait before we see how things end up with Kendra and Michael.
What did you think of the episode? What do you think of Kendra? Do you think Fiona has reason to be jealous? Weigh in now and check out the following Burn Notice quotes from the episode:
Fiona: I wish our phone conversations were as flirty.
Michael: She threatened to kill me.
Fiona: I can do that. | permalink
Sam: Thought I would introduce myself to the head honcho.
Fiona: How did that go?
Sam: Worst surveillance ever. | permalink
Fiona: Someone is getting a little flirty for his own good.
Michael: Fi, I am trying to snatch Kendra off the street and tie her to a chair.
Fiona: You're not helping your cause.
Michael: This is just a harmless case of cat and mouse between me and a professional killer. | permalink
Jim G. is a TV Fanatic Staff Writer. Follow him on Twitter.