The world is crashing down around Jackie Peyton.
On the episode "What the Day Brings," she was faced with past decisions coming back to haunt her - and she might not be able to lie or charm her way out of any this time.
First, the man whose life she saved last week showed up at the hospital, flowers and a large donation supposedly in hand. But does anyone believe he actually has pure intentions? I smell a confrontation coming soon, as anyone with that much Oxycontin on him won't simply go away; and also won't be afraid of Jackie.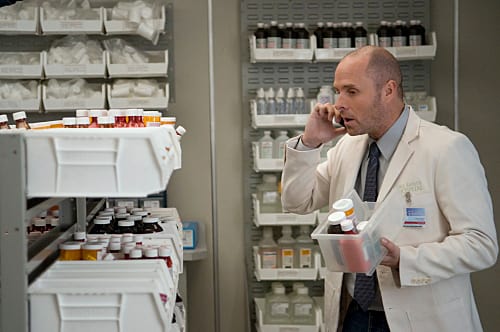 Next, O'Hara demanded a conversation with her best friend. Jackie managed to avoid it, but O'Hara is not Eddie or Kevin. Jackie can't just kiss her (or do a lot more!) and make her concerns go away. This is one brutally honest, direct doctor. She'll have her moment with Jackie soon and she'll detect any BS being shoved in her direction.
Kevin may finally be on to his wife, as well. As an audience, we're almost numb to her lie about the money from O'Hara because we've seen her do worse (or do Eddie, at least), but Kevin thinks Jackie is an honest person.
He's also a great father, which is what made his reaction to this news so jarring. He simply got out of the car, ignoring the message it sent to his kids. That's how pissed Kevin is and it's difficult to blame him.
How will all this play out on the season finale? Will Kevin's newfound distrust of his wife lead to more discoveries about her? And can Zoey and Lenny get any more adorable?
Comment on those questions and on this episode now!
Matt Richenthal is the Editor in Chief of TV Fanatic. Follow him on Twitter and on Google+.