Forgive any typos in this review of the Glee season finale. My keyboard is still wet from tears shed during the group's "To Sir, With Love" tribute to Will.
I kid, but only slightly.
That song was the best moment from a nearly perfect episode, as Glee got away from specific, character-driven, theme installments and focused on New Directions as a whole. When each member offered up a one-sentence description of who they had been before the choir was formed, viewers could go also reminisce and consider how far this show has come...
... in just one season! It feels like it's been on forever, doesn't it? It's been quite a journey, so let's go over this aptly-titled finale ("Journey)" below and try to make some guesses about season two.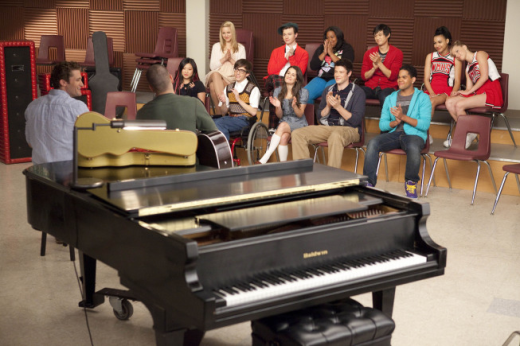 More Shelby ahead? For most of her stint on the show, it seemed like Glee was more focused on hiring Idina Menzel than making much sense of her character. One second she wants to meet Rachel, the next second she suddenly realizes how much of her daughter's life she's missed.

For such a major storyline, Shelby and Rachel's relationship felt rushed and scattered. But perhaps her adoption of Quinn's child will give both Shelby and the series a chance to correct her missteps. We have to see more of her next season now, right?

A chance for Wemma: Get your singing shoes on, John Stamos, you've got some competition for Emma's heart in the fall! The real question here is: Which "I love you" was more moving? Will's to Emma, or Finn's to Rachel?

How Sue sees it: I may have been in the minority, but I was never a fan of Sue's storyline with her sister. It felt manipulative, like an overt way of proving that there's an actual human being underneath that track suit.

But her decision to vote for New Directions at Regionals and then to extend the program for another year fit in perfectly with her character. It gave her heart, and a vital role, within the episode's main storyline and it made sense based on what we know about her, too.

Sorry, Olivia Newton-John, but Sue Sylvester is a mega celebrity in our minds. We've already pre-ordered her biography, "I'm a Winner and You're Fat."

The only area this finale loses points in was the strange duet between Vocal Adrenaline and Quinn's labor. The cutaways just felt disjointed, as viewers were supposed to be glaring at Jesse and his group one moment (like Rachel, oddly left behind at Regionals, for storyline purposes only), and then emotionally invested in the opposite direction in Quinn's experience the next.

I can understand, though, how the show wanted to give Vocal Adrenaline a major number, without focusing for so long on New Directions' competition. If Jesse and company were gonna win, we needed to actually watch their performance. This device allowed Glee to cover two storylines at once.

It's also hard to be too critical when Jonathan Groff is given such a platform on which to perform for a solid five minutes straight. His character also never truly found momentum (did he ever love Rachel or not? Why did he turn into such a villain after he successfully fulfilled his mission of uniting Shelby and Rachel?), but I'll miss Groff as Jesse.

Although I won't miss my wife constantly staring at him and telling me how much she wished I could sing.

In the end, there's no way New Directions could have won Regionals. The group must maintain its underdog status for at least another season. Therefore, the finale wrapped up perfectly, both emotionally and logically. I'll have more to say about it in the TV Fanatic Glee report card, so let's turn it over to readers for now.

What did you think of the episode? Browse through Glee quotes from the hour as you decide!

Matt Richenthal is the Editor in Chief of TV Fanatic. Follow him on Twitter and on Google+.

Tags: Glee, Reviews