Entourage came back last night with "Stunted," and as expected with this show, it hopped forward almost a full year to Vince on the set of a new movie, Turtle running his Lim-Ho business, Ari knee deep in the biggest agency, and Drama freaking out his holding deal expiring.  Oh and E still being engaged to a chick way too hot for him.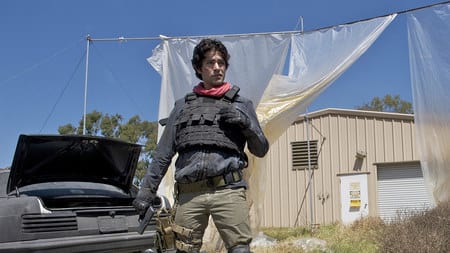 So far, jumping forward and dropping everyone in their own set of adventures made for a terrible season premiere, but hopefully will lead to a stronger season seven after such an underwhelming sixth.
Didn't this show used to be fun and entertaining?  Now it feels like everyone is just tasked with trivial problems like Vince having to do his own driving stunt.  Was any actually nervous during the very un-exciting jump over a ramp?
Did we need an episode of Drama freaking out about not getting a job after five seasons or so of that?  Or I'm sorry Ari, you run such a successful agency you need a new challenge?  Boo hoo.  E?  Okay, we can't get angry at you.  You brought us Sloane on screen for a few moments.  Yum.
Sadly, Turtle's business may have been the most exciting part of the episode.  It gave us 4 hot chicks, the only shot of boobs in the episode, and something everyone can relate to: sexual harassment.
When I have to say Turtle's plot was the best of the half hour, you know you're in for trouble.  We love Vince and the gang and really hope Doug Ellin and the funky bunch have some better dramedy lined up for us... or at least more boobs.  Bring on Sasha Gray already! 
Our favorite Entourage quotes including Ari's take on Hussein's management style after the jump.
Ari: Even with a million-man army you sometimes have to do the grunt work yourself. Saddam Hussein had to hang a few without his assistants. | permalink
Drama: They gave me a holding deal!
Ari: The guy who grills my hot dogs at Carney's had a holding deal in 1978. | permalink
Ari [on Cassavetes]: He comes from a family of method actors. They'll eat glass if it's in the script. | permalink
Vincent: You know Will Smith did all his own stunts in Hancock?
Drama: Will's an athlete, bro. I bowled with him. | permalink
Eric Hochberger is the programmer of TV Fanatic, so please forgive his mediocre writing. His programming is far better. Follow him on Twitter and/or email him. Just don't request threaded comments. They're coming.