On "Breach of Faith," our dynamic four were up to their ears in hostage situations and in assisting those in need.
This episode was the bread and butter of the Burn Notice team. While the overall storyline with Jesse did not move forward very much, we got to see Michael and Sam do what they do best: have each other's back. 
While Sam and Michael will banter about the jobs that Sam gets Michael involved with, this hour proved that regardless of the situation, they are truly friends and Michael would do anything to help Sam out. Sam is one of my favorite characters Bruce Campbell has ever played.
He clearly puts a good deal of himself into the role, and I enjoy seeing that.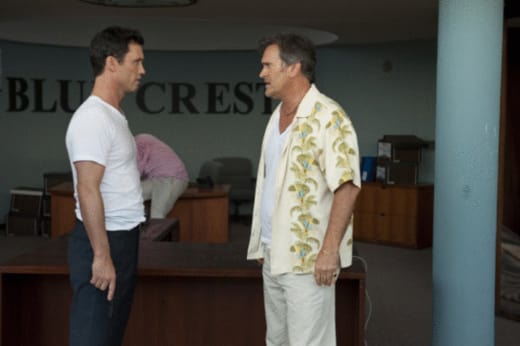 I also have to say that I really like how well Jesse is fitting into the team. I know it may not last, but having a fourth team member has allowed the story move more dynamically.
A great example took place when Jesse and Fiona wen to find the con-man's partner. Had Fiona been on that solo, I have no doubt she could have used her female charms to get the info. However, we would have missed out on some very fun dialogue, as well as her teamwork with Jesse.
My hat is off to creator Matt Nix. He knows how to show all sides to a character. From week to week, I am always impressed with the little glimpses we get into Michael, Sam, Fiona and now Jesse. I always look forward to the next episode.
What did you think of the episode? Do you think Jesse is fitting in? Was the team better as a trio?? Sound off now and check out a few Burn Notice quotes from the week.
Jim G. is a TV Fanatic Staff Writer. Follow him on Twitter.