You're a f**king bartender! You have no idea what it feels like to be me.
For a slow episode of Nurse Jackie, "Silly String" culminated in a major fight.
But did the show earn it? While Eddie was never addressed during Kevin and Jackie's confrontation, one has to wonder if he said anything to Kevin about his affair with his wife. If not, Kevin's anger seemed sudden and misplaced.
As viewers, we know that every word he said is deadly accurate... but does Kevin know that? When she's around her family, Jackie doesn't seem nearly as absent and unresponsive as Kevin asserted this week. So she didn't take her daughter directly to the hospital, as Kevin asked? So what?
Jackie is a nurse and O'Hara is a surgeon. They were both around when the accident took place. Granted, Kevin's rage was fueled by a lot more than this single incident, but it didn't warrant a shred of anger in my opinion.
And if it's been building week by week, viewers of the show haven't seen much of it. That's why I must ask again: do you think Eddie let something slip to Kevin about Jackie?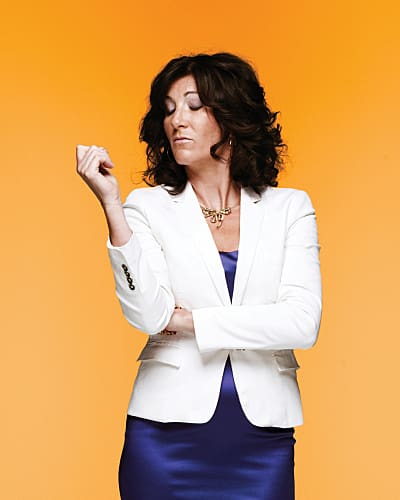 Elsewhere, I would have been happy to never return to Coop's breast-grabbing reflex ever again.
This character has been established as enough of a tool based on his personality alone. This quirk is simply a reach and didn't result in anything noteworthy this week during the storyline that involved the elderly donor.
As for O'Hara? Poor, trying-to-be-strong-but-is-really-crushed O'Hara? I had a feeling something would be amiss with Sarah as soon as we saw just how happy of a couple these two made.
Unfortunately for Jackie's BFF, it's her lot in life to be cynical and bitter - but, fortunately for fans, also really, really funny.
There's not much else to report on this week, as the episode remained purposely quiet and uneventful for the first 20 minutes or so, in order to make the concluding fight that much more dramatic. Did you see it coming? What will happen next between Jackie, Kevin and Eddie?
Sound off now and check out a few Nurse Jackie quotes from the installment below:
Kevin: Stop checking things off your list. I'm not something that gets done. | permalink
Jackie: I need some time to figure out if you're the love of my life or a pathological liar. | permalink
Thor: Do you have time to listen to me talk about boys and not judge? | permalink
Zoey: It's like I can't see gayness or something. It's so annoying. | permalink
Akalitus: You know, Dr. O'Hara is from Britain.
O'Hara: Yes, I'm from the whole of Britain. | permalink
Matt Richenthal is the Editor in Chief of TV Fanatic. Follow him on Twitter and on Google+.