Lost Finale Review, Take Two: What About the Storylines?

Luke Dwyer at .
My TV Fanatic colleague, M.L. House, stayed up half the night and wrote an in-depth, interesting review of the Lost series finale. I recommend all readers check it out and I agree with many of his takes on various characters and developments.
But this is final episode ever of Lost! It requires multiple critiques from multiple points of view. That's why I must chime in and that's why I must focus my negative review on storyline inconsistencies from season six.
Let me start by saying: I'm not an answers guy. I've been hooked on Lost ever since the pilot due to the incredibly layered characters created by the show. I tuned in to the finale interested in their journey above all else. My problem with the final 10 minutes and the resolution of the Sideways World is not that it ignored certain aspects of Lost mythology (I don't care who Alvar Hanso is, do you?).
It's that it had nothing to do with the plot of season six.
Yes, on a grand scale, everything we witnessed on the island mattered. The actions and decisions by these survivors helped them arrive in an after-life community that allowed them to "remember and let go," as Christian put it. They can move on now. Relationships formed and lessons learned have made it possible for Jack and company to see the light. I can get behind that overall message. I believe in it.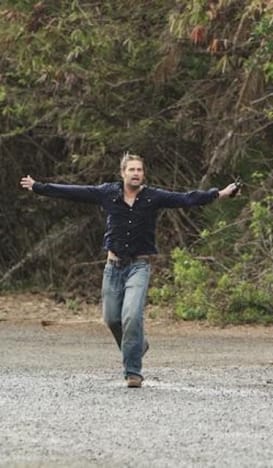 But the final season sold us a battle between good and evil. It seemed awfully ambitious, but Lost set up a scenario in which the individual journeys of these characters would play a role in an ongoing struggle between humanity's light and dark sides, as represented by Jacob and The Man in Black (MIB). In this sense, the castaways mattered above all else... but we were also invested in the mythology that played out each week.
Now, though? All that feels like a waste. Think about a couple specific storylines that got us to the finale, and then ponder their resolutions:
MIB is pure evil. He cannot get off the island or else all will perish. This storyline came to an end when MIB was made human and gunned down by Kate. Would mankind truly have ceased to exist if he got off the island? We'll never know, and we never really had any basis for believing it would, considering the Sideways World was in existence this whole time and made it obvious that something existed outside of life on the island.
Desmond is special. Was he, really? In the Sideways World, it was actually Charlie that pushed Desmond toward enlightenment. On the island, we were led to believe that Desmond would hold the key toward stopping MIB. But he was lowered randomly into the light cave, and didn't actually know what to do. His actions didn't save anyone at all.
These were major focuses of season six. Do you feel like they had a point, though? Or were they just plot devices meant to kill time until everyone could assemble at the church?
Clearly, an ending that brings up issues such as the after-life will be left open-ended and full of mystery. That's fine. That's not my issue. I simply take exception to the fact that Lost baited us with a sixth season dichotomy between Jacob and MIB... and then switched it up at the end to essentially say: taken as a whole, events mattered. But individually? Eh, don't worry about what Eloise Hawking's role in the Sideways World meant.
There's a difference between mythology and storytelling. I was happy to not know many details of the former; but any quality TV show must first and foremost tell stories each week in which viewers are invested. Lost accomplished this, but it failed to pay them off.
Looking back on the season, I now feel duped by stories that didn't go anywhere. Take David Shepard, for example. He wasn't even real. The show made us care about a relationship that didn't exist, just to get us to Jack's eventual revelation.
It's too easy to say the show was all about its characters all along, as the producers and many fans (myself included) have done, and, therefore, an ending that focused on their grand journey paid off six seasons perfectly well.
That's as much of a narrow-minded cop-out as those that believed only a list of answers would bring the show to a satisfactory conclusion. There is a middle ground, or at least there should be. I wasn't going into the finale hoping for tiny bits of island mythology to be revealed. But I was going in expecting my investment in specific storylines (Jacob, MIB, Desmond) to be made worthwhile.
I left it with a message about community and love and relationships and letting go. But also with this nagging complaint: Does a positive, emotional message make up for a season's worth of dead-end storytelling?
I say no.