Season two of 90210 came to a fiery conclusion last night.
What did you think of "Confessions?" We gave the season finale 3.5 out of 5 stars.
There's plenty still to discuss and analyze from the episode and the show overall, though. Below, our weekly TV Fanatic Round Table tackles various topics and encourages readers to chime in here or in our 90210 forum...
Which cliffhanger has you most on edge for season three?
M.L. House: Was there really any cliffhanger aside from Naomi's situation with Mr. Cannon? The episode didn't really leave us wondering too much about Navid and Adrianna, Dixon and Ivy, etc. But the Naomi development and interesting and risky. Let's see how it's handled.
Dr. Shepherd: I felt ripped off by the lack of actual cliffhangers. No one was on the boat when it blew up?!? Annie simply confessed without any repercussions?!? I'm struggling to come up with multiple suspenseful storylines here.
The Barnacle: I'll say Liam and Jasper was a cliffhanger, only because I hope Liam killed that annoying psycho.
Will you miss Harry?
M.L. House: No. Like The OC, the show has to either embrace its adults... or ignore them completely. You can't have it both ways. If 90210 has chosen to ignore the Wilsons, that's fine. Best of luck elsewhere, Rob Estes.
Dr. Shepherd: I actually win. As principal of West Beverly, Harry had potential to play an actual role in the kids' lives, but the series never went there. Feels like a missed opportunity to me.
The Barnacle: Nope. I look forward to Deb being on the open market. Call me!
What is your favorite part of the show?
M.L. House: I really like the character of Navid. He's sort of like Steve Carell in The 40-Year Old Virgin. He's quite dorky, yet comfortable in his own skin. I hope 90210 allows him and Adrianna to settle in as the show's long-term, steady couple.
Dr. Shepherd: It's The CW's PG-rated primetime soap opera, and that's refreshing. Gossip Girl and The Vampire Diaries can both be extreme at times (okay, always), so it's nice to have a show that focuses on basic high school issues.
The Barnacle: Any scene with Silver.
What is your least favorite part of the show?
M.L. House: The dialogue. All these lines were uttered on the finale: "The future is still unwritten." (Liam) "It's not over til it's over." (Javier) "You're crazy, Dixon." "Crazy about you." (Ivy/Dixon). I mean... really? Do the writers just consult with the Book of Cliches each week?
Dr. Shepherd: They may be very nice people, and I don't wish them any harm, but it must be said: Shenae Grimes and AnnaLynne McCord are simply horrific actresses. They overact all the time and can't be taken seriously in any scene.
The Barnacle: Too much focus on relationships. People are breaking up or getting back together every week. Either keep pairings together for awhile, or give characters storylines on their own for a change.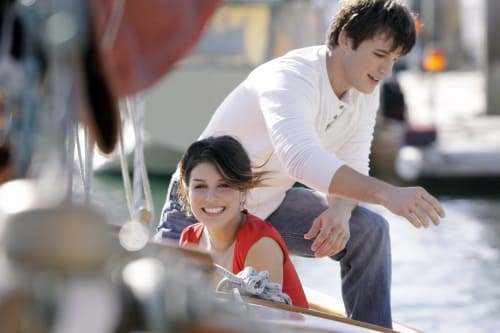 Matt Richenthal is the Editor in Chief of TV Fanatic. Follow him on Twitter and on Google+.