Welcome to this week's edition of the 90210 Round Table!
This CW drams set the stage for next week's finale with an episode that many viewers have labeled as "boring." What did you think of "Javianna?"
We've already added 90210 music, quotes and photos from the installment. But there's one thing missing: an in-depth analysis of it. Sound off on the topics below...
Help Ade pick already: Javier or Navid?
M.L. House: Navid. For once, it would be nice to see the average Joe get the girl over the dreamy, talented musician. It would be like The Barnacle dating Jessica Simpson instead of John Mayer. Who wouldn't want to see that?!?
Dr. Shepherd: Neither. Adrianna has to be by herself for a bit. She's always relied on drugs or alcohol or men. Just take a break, Ade. Work on you for awhile.
The Barnacle: Navid may have put her through rehab and has always been there for her, but hello: money, fame and looks?  Sorry, Navid.  I'm ready to switch teams and run away with Javier if Ade doesn't.
Two Affair to Remember references on the CW in one week, who did it better: Gossip Girl's Chuck or 90210's Navid?
M.L. House: Sorry, but the answer to any question pitting these shows against each other will always be: Gossip Girl.
Dr. Shepherd: What the heck is Affair to Remember?!? These shows are aimed at a young demographic. Can we get some references that reflect that please?
The Barnacle: Definitely 90210.  Gossip Girl was too cheesy by having Blair state the obvious reference out loud and Chuck had things way too easy by being near the actual Empire State Building.  Navid had the creativity to use the snow globe.  Navid: 1, Chuck: 0.
Your high school car: better or worse than Jen's replacement for Naomi's Benz?
M.L. House: Better. Until I crashed it into a telephone poll , that is.
Dr. Shepherd: Worse. But what I did with Jenny Michaels in the backseat of it? MUCH better!
The Barnacle: It's a toss up.  If we're talking after Liam fixing up the jalopy, Naomi might edge out some of the cars I had to learn on.  Status quo?  Glad to bring her down to my level.
What storyline are you most excited to have wrapped up during the finale?
M.L. House: The Wilsons' wayward marriage. We've known for weeks that Rob Estes was leaving. Why even waste time on screen by pretending there's another option? I'd rather have had Deb just wake up next season with a note from Harry saying goodbye.
Dr. Shepherd: Adrianna's teetering back and forth between Navid and Javier. Choose Navid, make a stable connection and let's have one 90210 relationship that lasts for a full season at least.
The Barnacle: Jasper and Annie, so we never have to deal with his creepy ass again.  Hopefully, we can also get rid of Annie and kill two annoying birds with one finale.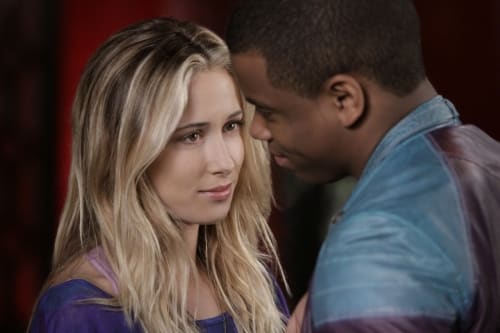 Matt Richenthal is the Editor in Chief of TV Fanatic. Follow him on Twitter and on Google+.