With 90210's second season finale coming up next week, this week's installment was tasked with setting up some serious drama to unfold next week.  So did "Javianna" do what it set out to do?  We'll go over each story line and give on our opinion: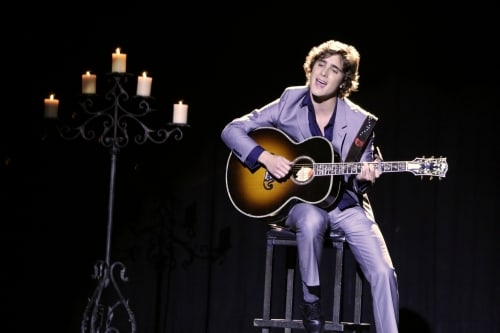 Naomi's "Breakdown"
Well despite being hyped as a breakdown in previews, Naomi just kind of got annoyed over Jen's budgeting of her money.  The only real result from this storyline?  Jen's pregnant.  Wow.  We would have much preferred if it was a main character, but hopefully Ryan is at least the baby daddy and a source of drama next week. 
Navid / Adrianna / Javier Pop-Love Triangle
No offense, Navid, but we have no idea why Adrianna is going to choose you over Javier.  That guy pretty much has it all.  Yet for some reason, we all know Ade and Navid are going to end up together, so we can't help but not really care going into the season finale.
Sixon
All of Dixon's gambling problems led to some marriage tension between Harry and Deb as he attempted to keep it a secret from her until this week.  Big deal.  No one cares about the old people.  So let's focus on Dixon and Ivy's fight over Dixon joining her in Australia.  The fight?  Legit.  Was it exciting?  No.  But did it lead to the best drama of the hour as Sixon kissed in the broom closet?  Oh hells yeah.  Finally something we're looking forward to next week.
Annie and Her Stalker
Jasper decided to make an annoying return this week, but finally it all feels like it was for something.  While Annie and Liam were working on a paper, he pulled up the confession she wrote weeks ago.  While he may not have seen the whole thing, he definitely got to see her flip out.  With the season finale coming up next week, clearly this is going to be one of the strongest storylines.
Overall, we were a little disappointed how little drama has been set up next week, but we've heard such good things about the finale, we're still excited.  Most 90210 spoilers seems to indicate the finale all belongs to Naomi, so we're even more curious given the developments of this episode.
We can't help but feel like this week was mostly just filler.  What did you guys think?  Sound off in the comments below after our favorite 90210 quotes from the episode:
Jen: You're on a diet consisting of low denominational greens. That's fives and tens, sister. | permalink
Silver: The only time I ever done it, I was going through a manic phase, so I feel like I'm a virgin again. | permalink
Naomi: Oh my god. Stop kissing or I'm gonna take a picture and send it to Perez. | permalink
Eric Hochberger is the programmer of TV Fanatic, so please forgive his mediocre writing. His programming is far better. Follow him on Twitter and/or email him. Just don't request threaded comments. They're coming.