Does Jackie actually have feelings for Eddie?
That was the main question on my mind as soon as "Caregiver" faded to black.
Throughout season one, it was never fully explained why Jackie risked her marriage and stable family life for afternoon delights every work day at noon. Because of Eddie's drug connection? Her loneliness?
A lack of self-esteem?
Based on her reunion with Eddie at the conclusion of this week's episode, the answers appear to be: yes, yes and yes.
Consider the factors that drove Jackie back into her lover's arms: security around the pill machine has tightened; she's jealous over Kevin's relationship with a former girlfriend; her work day was spent looking after an elderly woman whose caregiver had neglected her.
Nothing scares Jackie more than ending up like that woman - and not having the drugs to calm her back pain when it flares up. Enter Eddie.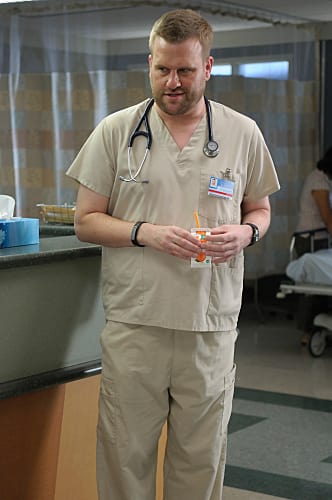 At this point, it's unnecessary to even mention Edie Falco's performance. She's putting on a weekly master acting class as Jackie.
Other notes/observations from the episode:
Let's also give props to Stephen Wallem (pictured) as Thor. Giving this character diabetes has opened up a range of comic possibilities.
Ms. Akalitus having to cater to Coop's ego as she practically begged him to be the new hospital spokesman? Hilarious.
Sorry, Lenny. We may have been too quick to judge you. Maybe you would have made a good baby daddy for Zoey.
What did you think of the episode? We've compiled a bunch of Nurse Jackie quotes from it below.
Coop: The whole good looking thing? More of a curse than a blessing.
Akalitus: I can't even imagine. | permalink
Coop: Hobnobbing is my gift. That, and really tiny stitches. | permalink
O'Hara: Don't think so hard.
Zoey: Not like I can help it. | permalink
O'Hara: You are many things, Jacks. Useless is not one of them. | permalink
Coop: Jackie Peyton, armed and dangerous.
Jackie: Don't tempt me. | permalink
Kevin: Seriously, Jackie, you're nuts.
Jackie: Seriously, Kevin, you're mine. | permalink
Matt Richenthal is the Editor in Chief of TV Fanatic. Follow him on Twitter and on Google+.