Welcome to Haplin, Minnesota. What did you think of ABC's introduction to this mysterious hamlet?
On the series premiere of Happy Town, we met a bunch of interesting individuals, most of whom are hiding secrets or playing some role in a killer-based conspiracy.
This is pretty much ABC's third attempt at replacing Lost. Its first two, FlashForward and V, have tanked in the ratings and are unlikely to be renewed for a second season. But Happy Town feels different, at least after one episode. Unlike those two shows, which took every situation so seriously (FlashForward star Joseph Fiennes may not have smiled once all season), there's a wink and a nod to this drama.
It wants to scare us, sure, but it's also aware that it's a campy television show version of most horror movies.
For example: one old lady said "murder" in an almost mocking way; one character laughed about the sheriff giving him a "This town isn't big enough for the both of us" talk. There was an irony and a light air about the pilot episode, even as it told us all about the Magic Man and his past in Haplin.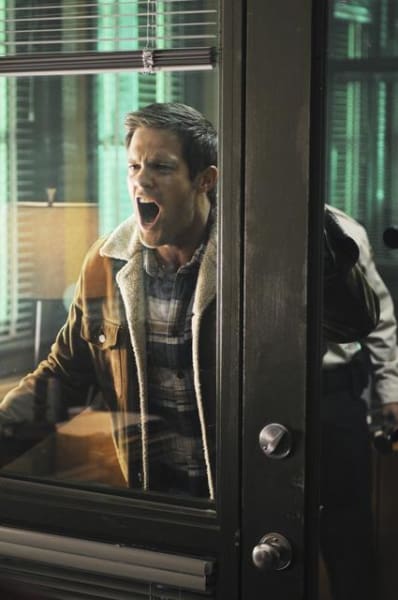 After one hour of the show, I'm curious for more, aren't you? First, the Magic Man is a nice hook. Instead of biting off more than it can chew with a global mystery (again, such as FlashForward and V), the series focuses on a single, overarching issue: Who is the Magic Man? Why did he stop kidnapping? Has he returned with this new murder?
The episode was also sprinkled with clues and facts seemingly related to him. To wit:
Henley is actually Chloe, and she has a tattoo on her back of the symbol that mourners in town use to remember their late loved ones.
Merrit Grieves knows... something. It wouldn't shock me if that Blue Door speech was just a red herring, but Sam Neill plays this character with the sort of light-hearted irony mentioned above - while still remaining intriguing and, at least to a bunch of elderly widows, sexy.
Griffin rants about Chloe in an occasional trance, of course, but this fact struck me as more interesting: his wife died five years ago, around the time when the Magic Man disappeared.
What the heck is on the third floor of that house?
The show treads in cliches, of course. Tommy Conroy is your basic small town policeman that has never been around a big crime before.
John Haplin is the grieving father whose wife still washes the sheets of their dead daughter.
We've seen these characters many times before, but Happy Town isn't trying to win any Emmys or writing awards. It's a guilty pleasure. The cast seems solid enough and )perhaps we're just comparing it to the aforementioned pair of flops that quickly ran out of steam on ABC) but it has potential because it's grounded in a small town and focuses on just a few characters.
The show is too self-conscious at times, going out of its way to alert the viewer to every cliche-ridden scenario (look, this couple is akin to Romeo and Juliet! One guy is called "Root Beer" because "it's a small town; everyone gets a nickname."), as if to say: yes, we're campy and quirky and not too original, but we know it. So that's okay, right?
My answer? Yes, that's okay. Just don't place your tongue too squarely in your cheek, or you lose any semblance of seriousness and become nothing more than a parody of horror films.
Still, blood has been spilled, as Griffin Conroy kept saying to close the episode. The Magic Man might be back. How can we not tune in again to see what this actually means?!?
Matt Richenthal is the Editor in Chief of TV Fanatic. Follow him on Twitter and on Google+.