What an absolutely GREAT episode.  This week, on "The Man From the Other Side", Newton returns with some freaky looking shape-shifters on a mission. They are trying to open up a door and connect the two universes.  Which definitely left us wondering pondering why!?! By the end of the hour, Peter is missing and an unidentifiable man has crossed into our universe. 

Poor Walter!  We enjoyed watching his internal struggle, wanting to tell Peter the truth but fearing that truth would make him lose his son forever.  Can't blame the guy, he just recently reconnected with Peter in the first place.  Peter even called Walter dad in this episode, which ended up surprising them both.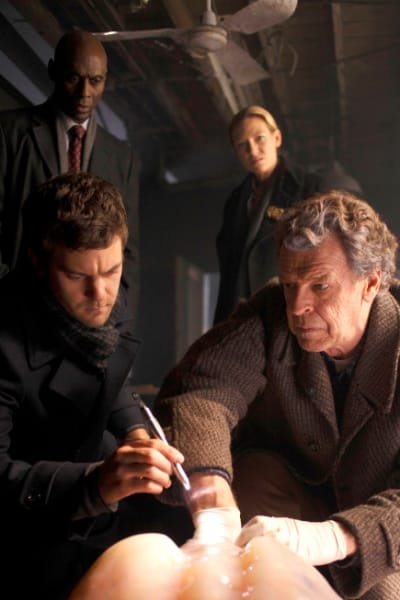 Peter ultimately finds out that he does not belong to Walter and it breaks our heart watching the anger he has for his father.  He has no idea the lengths Walter has gone to protect him. Walter was so driven; he was the one who created the portal to save him when he was dying.  If it wasn't for Walter, Peter wouldn't be alive today. We hope he remembers that Walter would do anything to save him, because he loves him more than anything!

Later we learn Peter has checked himself out of the hospital and is missing.  Do you think Walter and Olivia will be able to find him?  Which universe will Peter end up remaining in?  Too bad they cannot create a machine to clone Peter. When it's all said and done one Walter will still be missing a son, we just hope it's not our Walter.

At the end of the episode we see a man with Newton, recovering.  He seems severely hurt but still alive.  OK, we have to say it; we guess this man is Walternate, Peter's real father!  We knew he would eventually come looking for his son, and wonder why it took him so long to find a way over.  Now the entire story makes sense don't you think? 
We always wondered what Newton was up to, always trying to open up the door for something to cross into our universe.  Now we think we know the answer… Who would have the desire and the know how to cross dimensions?  A man looking for the son he lost many years ago!  I guess we'll just have to wait and see!
We see a lot of our many questions being answered soon.  We cannot wait!!!
Here are a few of our favorite
Fringe quotes
to keep you guessing until next week:
Walter: A well ordered house is a sign of a well ordered mind.
Peter: Yeah and staying up all night to find a perfect place for your laundry hamper is a sign of something else in my books. | permalink
Walter: Peter, every living thing dies, as a scientist that's one of the hardest things to accept. | permalink
Walter: Look, it's a lemon zinger I believe. Not as good as the stuff I grow but it's not bad either.
Peter: Well, at least she died in a happy place. | permalink
Walter: As they say in Finland, there's more than one way to roast a reindeer. | permalink
Peter: I am not your son. | permalink