There were no major break-ups or fight this week on 90210.
But the seeds were definitely planted for a few major developments as the show inches closer to its season finale in May. You've already read one review of "Multiple Choices," but our staff has returned with the latest edition of the TV Fanatic Round Table.
As always, we encourage debate on the following topics, either in the Comments section or the 90210 forum. Let's begin...
Who are you more excited about: Mark, Jen or Liam's birth dad?
M.L. House: Liam's birth dad, hands down. I guess it was sweet that Dixon got along well with his real mother, but it was also boring and lame. Returning relatives on a primetime soap opera should mess things up and turn on their supposed loved ones, dammit! There's little doubt that is the set up here.
Dr. Shepherd: Jen. She's the perfect foil, as few characters can actually stand up the Naomi. There's nothing like a good sisterly cat fight.
The Barnacle: Mark. I'm sick of West Beverly seeming like there are no more than eight students that attend... and they all get along! Every high school has its bullies, and I'm anxious to see what Mark does with the information about Harry that Dixon let slip.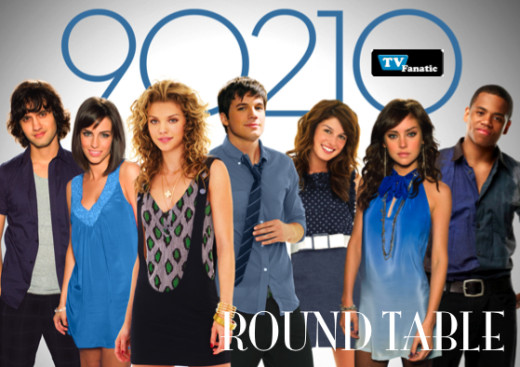 Worse actress: AnnaLynne McCord or Shenae Grimes?
M.L. House: It's a tie. I can't choose between two actresses that have never met a scene they didn't try to steal. It's called subtlety, ladies. Just because you're upset doesn't mean you need to purse your entire face.

Dr. Shepherd: Grimes. When she's supposed to be happy, she looks confused. When she's supposed to be sad, she looks confused. When she's supposed to be confused, she looks... ah, I give up!

The Barnacle: How is Rumer Willis not an option?!? I choose her.

Will you be sad to see Silver and Teddy break up?
M.L. House: Not at all. These two have less chemistry together than Grimes and a full meal. It's like the show didn't even try to make them seem close or realistic. How could they have been dating for months and never discussed college or the SATs before?!?

Dr. Shepherd: Yes. They're the two best looking people in the cast. They should be together.

The Barnacle: Not if they break up because Teddy films a sex tape without Silver's knowledge. Come on Silver sex tape... come on Silver sex tape...

Is there hope for the Wilson's marriage?
M.L. House: No.

Dr. Shepherd: No.

The Barnacle: No.

Navid, Dixon and company played poker on school grounds. What's the craziest thing you ever did in high school?
M.L. House: I threw a basketball at a referee after he made a bad call against my team. It was absolutely a clean steal!

Dr. Shepherd: I drove my mom's Jeep onto the curb to scare the cheerleaders of an opposing team. My mom is a minister. They got her license plate number and called the cops. It wasn't my proudest moment.

The Barnacle: I once locked the guard in the bathroom and played a record over the loud speaker for like 10 minutes before... no, wait. That's was The Shawshank Redemption.

Matt Richenthal is the Editor in Chief of TV Fanatic. Follow him on Twitter and on Google+.

Tags: 90210, Round Tables