White Collar Season Finale Review: "Out of the Box"
at . Comments
Last night wrapped up the first season and boy did our boys go out with a bang - literally! And we surely did not see that one coming!
We were curious how everything would end and what choice Neal would choose - to follow his heart (Kate) or do what he knew would be the more honest choice and stay.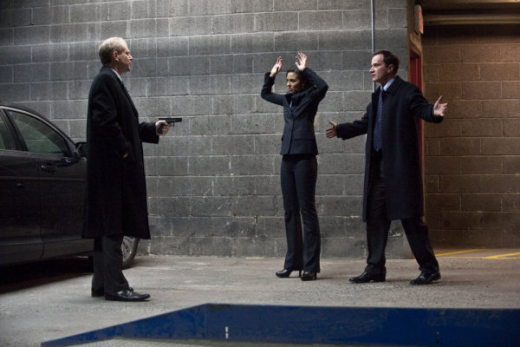 "Out of the Box" showed us that White Collar is here to stay!
As much as we loved how tirelessly romantic Neal is about Kate, we don't think she deserves it.
In fact. we really like Alex! She's hot, smart, and fun. Plus, from the looks of the two of them naked in the swimming pool, there is definitely an attraction there. All we can do is keep our fingers crossed that next season Neal doesn't waste too much time moping about over the loss of Kate.
Speaking of, do you really think Kate died? We've got a feeling Kate is like a cat with many lives and will come back next season. Maybe she was even in on it and wanted the plane to explode with Neal in it? Wouldn't that be a dark twist?
The last couple seconds before Neal was about to board the plane, really had us guessing whether he turned around to stay or to just say good-bye. Either way, we know Fowler is the one behind the bomb. He has to be! But, how will Peter and Neal prove it?
Elizabeth's role again was just an accent part of the show. We hate to admit it, but we really don't feel any on screen chemistry between her and Peter. Hopefully next season things will heat up!
All in all, the boys knew how to bring it and kept us highly entertained throughout the episode. What did you guys think of the season finale?
Until next season, we leave you with a couple of our favorite White Collar quotes after the jump!
Peter: You said goodbye to everyone but me. Why?
Neal: You know why.
Peter: Tell me.
Neal: Because you are the only one who could change my mind. | permalink
Neal: You and Peter - how did you really know?
Elizabeth: Well, I think there is a difference between loving the idea of someone and actually loving who they are. | permalink
Neal: I'm an internationally known art thief and tonight I am here to rob you - cheers! | permalink
Mozzie: We feel free when we escape even if it will be from the frying pan to the fire. | permalink
Tags: White Collar, Reviews
Want more White Collar?
Sign up for our daily newsletter and receive the latest tv news delivered to your inbox for free!
More From TV Fanatic

This week on The Last Ship, Danny gets sick and the crew begins to panic. Is it the virus? Meanwhile, Rachel's vaccine trials continue to fail.

Who was able to successfully problem solve on The Rachael Ray Show this week? Find out now in our review of Food Network Star.

The Masons are reunited on Falling Skies Season 4 Episode 6. Will it be a happy or contentious reunion?

What took place on The Real Housewives of New Jersey Review this week? Read our rundown to find out!
---