The Mentalist Review: "Code Red"
at . Comments
Last night on The Mentalist Jane and Lisbon had a pretty deadly situation on their hands!
In "Code Red", could you imagine being stuck in a building that has a deadly virus leak? Who would you call in your last minutes alive?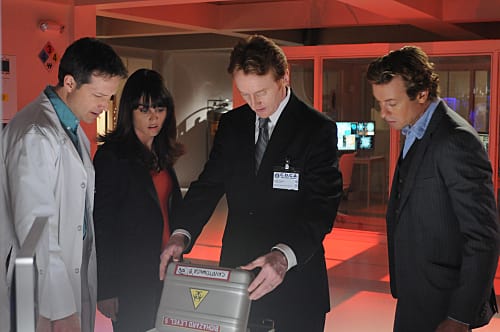 We understand that Jane did what he needed to do in order to find out who the real killer was, but how great was it that Lisbon punched him in the nose?!
We get that Jane was trying to prove a point to Lisbon that she should be happy that she has a life, but really, he should have let her in on his scheme. We thought that was just plain mean.
But, we did like that Jane said that if he was dying he would call her. It showed that he does have some feelings for her. Before Lisbon realized what Jane did, you could see it in her eyes that she was touched.
Jane really knows how to read people. He can tell right away if you are lying or telling the truth. How awesome would it be to have him be one of your friends? You could have him question anyone you thought was lying to you - better yet, teach you a couple tricks!
No word yet on John Red and we are anticipating his next moves! Hopefully very soon and if you read our spoilers you know it will be something to look forward to!
It is also strange that Rigsby and Van Pelt haven't really shown anything about their relationship. We hope to see more steamy scenes with these two!
Until next week, we leave you with a few of our favorite The Mentalist quotes after the jump!
Lisbon: You know what made me feel better? Punching you in the nose. | permalink
Lisbon: Don't you have anyone you would want to call?
Jane: If I were dying, I would want to call you, but you're here with me.
Lisbon: If you were dying?! | permalink
Jane: Cheer up -
Lisbon: Why?
Jane: Because it's better to be happy than to be sad. | permalink
Jane: Open sesame. | permalink