What a great showcase for Will this week on The Good Wife.
This wasn't the first time the firm's partner has proven that he's willing to go to the outer rim of the law (remember when he sent Alicia to take items from a client's apartment before the police could get there?), as the show has created a clearly moral character that also believes in the rights of his clients. Even if those client deal drugs or cover up murders.
In "Fleas," we got to see just what Will loves about the law (befriending judges and/or taking them on, providing a defense for everyone, arguing, etc.), while also seeing him take center stage in more ways than one:
He's good at basketball.
He's in the middle of the first real fight (more on that below) between Peter and Alicia.
He toes a morally grey line. Was the federal attorney really a bad guy? Of course not. Was he even in the wrong? Not really. However, seeing things from Will's side, the guy came across as a pompous jerk.
He and Diane go at it verbally, and then decide to hire a third partner to keep the firm afloat.
On the last point: I must admit that I'm a sucker for any series that depicts two adults arguing passionately for professional reasons, and not having it affect them personally in any way. Perhaps it's The West Wing fan in me. But this is always the sign of an intelligent, mature show, a description that certainly fits The Good Wife.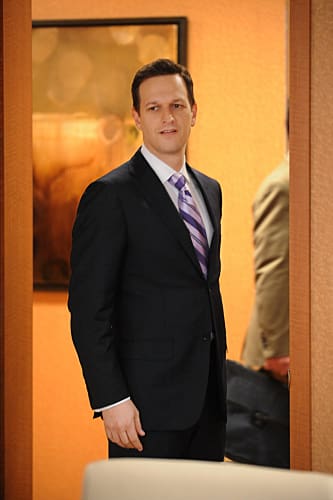 As for the Peter and Alicia fight: How great was that?!?
Julianna Margulies simply owns this character, remaining strong at almost all times, with emotion bubbling beneath the surface any time her husband is brought up in her professional or her personal life. But it's only natural for that emotion to sometimes spill over, and what more appropriate situation for that to occur than when Peter (prostitute-banging Peter!) accuses Alicia of being unfaithful?
That does beg the question: was she unfaithful? Alicia said to trust her, but Becca's Tweets were based on information fed to her by Zach. Did he see Will sneaking out of his mother's apartment one morning?
We also love Eli Gold. The scene between him and Becca was fantastic, as was the fact that he references
When a Stranger Called
and
Drag Me to Hell
during the episode. Who would have pegged him for a horror movie fan?
In closing, we hope Zach doesn't get Becca pregnant. The conclusion was teasing that possibility, right? The show doesn't need such a cliched, messy situation. It keeps us glued to our TV screens every week by remaining smart, simple and provocative.
What did you think of the episode?
Matt Richenthal is the Editor in Chief of TV Fanatic. Follow him on Twitter and on Google+.