The Ghost Whisperer Review: "Implosion"
at .
Last night marked the 100th episode of The Ghost Whisperer and it was everything we had hoped it to be!
Before we get to our review of "Implosion", let's take a moment to congratulate Jennifer Love Hewitt on her excellent job at directing this episode. If things don't work out for her in front of the camera, we know she would be great at being behind it. Bravo to you Jennifer Love! Job well done!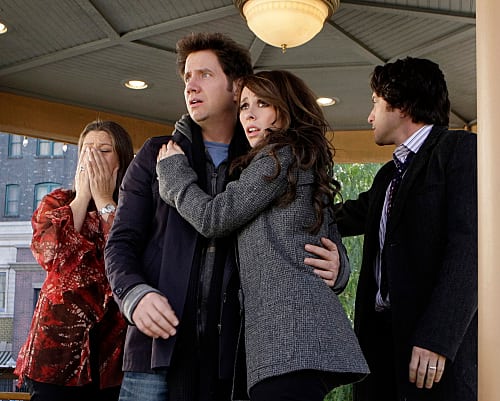 We all knew that someone would die, and we were so happy that the writers kept us in suspense until the very last second! 
We weren't sure if Eli would make it out alive or not, but it was nice that only Bedford died - and what a ghost he will be! That last segment with him eerily looking into Ned's bedroom gave us the chills. We can't wait to see all the haunting Bedford will be up to!
Finally, some main story-lines were brought back to life with Bedford and the Shadows.
Why did he so desperately want Ned to be the one who delivered the Book of Changes to him? Would this have something to do with the Book of Changes reappearing in one of Ned's school books? There most definitely is a link between these two circumstances.
What about the creepy phone call from the Shadows to Bedford pretending to be his mother? The Shadows have more power then they are letting on and why is it so important to them to have the Book of Changes? Where are the Shinings?
"Implosion" did have some heart-felt moments with the young ghost remembering his time at the old army base with his father. Our hearts went out to him and the way he died. We liked how Melinda used Aiden's words to tell Joey that no one really ever dies, they live in the hearts of the people who knew and loved them. Very sweet and very touching.

Melinda and Eli are always at the scene of the crime, so why won't the police use Melinda as a tool to help crack the case? Seriously, she should get paid for all the cases she has helped them close!
All in all The Ghost Whisperer lived up to what we wanted for the 100th episode. We loved every second of it! What did you guys think? Until next week, we leave you with a few of our favorite The Ghost Whisperer quotes after the jump!
Eli: I wouldn't mind a little protest, I am open to suggestions. | permalink
Melinda: You're a very wise little man.
Aiden: No, I'm just thirsty. | permalink
Delia: (to Melinda) Wow! It must be really really interesting to be you. | permalink