Private Practice Review: "Fear of Flying"
Steve Marsi at .
There was a lot going on last night on Private Practice, both in terms of patient stories and character drama. While tough to follow at times, it certainly didn't lack for drama.
"Fear of Flying" gets underway with Addison's pregnant patient, Elisha, who's about to marry her boyfriend, Esau, a Kenyan who needs a physical to get his visa renewed.
However, Sam finds he has tuberculosis - untreatable - and he is quarantined. The couple decides to make a run for it, but ultimately comes back when she goes into labor.
Immigration shows up to take him away, and it's very sad. Sam pretends he's sick long enough for him to see his baby, who will have to remain in the U.S. for treatment.
Meanwhile, Sam is apparently good with Addison and Pete now. The reason for that? New girlfriend Vanessa. Even though he thinks about Addison while he's with Vanessa.
Does this strike anyone else as a little hard to believe? Would Addison and Pete really cry in each other's arms, longing for other people ... while hooking up themselves?
It's a tad weird.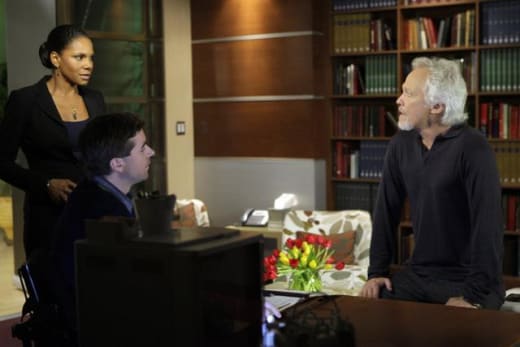 Naomi's smack in the middle of the latest Private Practice love triangle.
Elsewhere on the Pete front, he treats a couple who find out she's allergic to his sperm. Really. Man, just when you thought you'd seem every crazy sexual problem on this show.
After they try condoms and she almost dies, Pete encourages them to break up, but has a change of heart when he realizes just how in love with each other they are. Touching.
Naomi, meanwhile, is going on a date with her boss, William, until Fife says he loves her. He just comes out and says it, a bold move, but albeit maybe presumptuous. Whatever.
Addison, on the advice-giving outside looking in on the love triangle for once, thinks Nae likes Fife more than she lets on. Which she admits ... but goes out with William anyway.
Follow the jump for our take on the rest of the night's drama ...
With Violet having run off to Costa Rica (when do you think she'll be back, if at all?) Sheldon deals with her patient, a girl afraid flying after being in a plane crash (hence the title).
While Sheldon does a nice job and convinces her to fly to her sister's wedding in the end, the thing's in California. Sure, San Francisco is a long drive, but it can be done. Whatever.
Finally we have Cooper, back from Central America and visiting Violet, and with a renewed outlook. He's not angry anymore, he swears, but Charlotte still is. Someone had to be.
Now comes the kicker. After helping Sheldon with his patient, Charlotte and he sleep together on her couch! Just as Cooper comes over to get Violet's mail! Talk about awkward!
Seriously, we're all for interoffice romance, but these people all get around more than on Grey's Anatomy at this point. Are they just throwing darts at Private Practice cast photos?
Oh, who are we kidding. As long as you accept this semi-incestuous, sexual merry-go-round for what it is and just embrace it, things can be pretty darn entertaining. Are we right?
What did you think of last night's Private Practice? Comment below!
Steve Marsi is the Managing Editor of TV Fanatic. Follow him on Google+ or email him here.