Tuesday night's NCIS: Los Angeles opened with Navy Lt. Commander Calvin Lee hanging from a bridge. Was Lee murdered, or did he kill himself - and either way, why?
Like many things on this episode, the officer was more than meets the eye. Check out our episode recap for the basic plot details, then read our review of "Chinatown" ...
Lee was found hanging just as he was due to ship out as the executive officer aboard a sub equipped with sensitive, advanced technology, raising suspicions at NCIS.
Callen and Sam suspect that he may have been murdered, until Eric uncovers video of Lee very conclusively flinging an object off the bridge and plunging to his demise.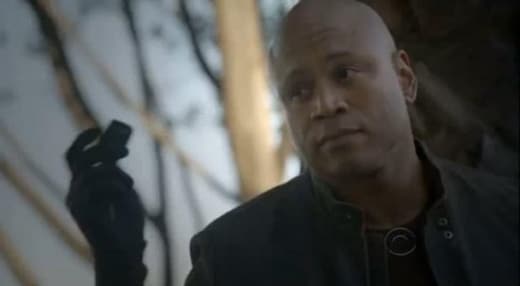 CLONE THIS: The Commander's car keys were not as they appear.

What would prompt this stellar serviceman to act so drastically? The answer was buried deep within his complex personal life and even more complicated family history.
First, Calvin's parents were questioned, and claim they had two children, but Calvin's older sister died. Not the case. She is alive, and living under a different name in L.A.
She tells Callen and Sam that Calvin, despite being engaged to a woman (his parents' claim), was a discreet homosexual who adhered to the "don't ask, don't tell" policy.
His alleged fiancee? A spy. His boyfriend? Murdered.
On the trail
of Calvin's supposed fiancee, Callen and Sam uncovered a Chinese spy ring - one trying to force Calvin to sneak a high-tech hard drive cloner aboard the sub.
The fiancee was his handler, sent by the Chinese government, to keep an eye on him. The boyfriend was killed to send him a message: Go through with the plot or else.
But in the ultimate act of defiance, Calvin ultimately decided to take his own life rather than obeying his handler, tossing the cloner, disguised as car keys, off the bridge.
The episode concluded with Kensi, Callen and Sam attempting to neutralize Chinese agents in an outdoor marketplace after learning that Calvin's family may be at risk.
In exchange for being excepted from China's one-child policy, Calvin's parents moved to the U.S. to raise him a spy. But when the time came, he couldn't betray the U.S.
The episode had a little of everything, from NCIS' efforts to get inside Lee's mind to fight scenes reminiscent of Jackie Chan films. Sam and Callen won, obviously.
One particularly cool thing was that sitting around talking about Dom (MIA since "Missing") helped G. conclude that Lee's car keys might be more than that. Nice tie-in.
Providing some comic relief was Nate, who actually left the office as Kensi's sidekick and had delusions of becoming an agent himself, only to be put in his place by Hetty.
Also amusing? G. and Sam acting more like a married couple every week.
From the action scenes to the unraveling of Lee's complicated past and his motives, "Chinatown" was quite well executed all around, continuing the show's recent trend.
What did you think of this NCIS: Los Angeles episode? Did you like it as much or more than last night's NCIS? Share your comments and opinions with us below ...
Steve Marsi is the Managing Editor of TV Fanatic. Follow him on Google+ or email him here.