Melrose Place returned this week with a case of relationship roller coaster-itis.
Let's assess where various couples stand after the episode "Oriole."
Lauren and David: Better than ever! That's what happens when you stand up to the guy that drugged your girlfriend... and when you knock him out before he gets a chance to explain that Lauren really is a "whore." I like these two. Should be exciting to see how David, a man with questionable morals, reacts when he learns about Lauren's occupation.
Jonah and Riley/Ella: Snooze! Things started out well, with Ella and Jonah in a hotel room together. And, sure, we understand why Jonah wouldn't wanna hurt Riley any more than necessary. But she makes one tiny speech about wishing to return to pre-engagement bliss and Jonah considers it?!?
Has he seen Ella?!? Or realized how boring he and Riley are for viewers?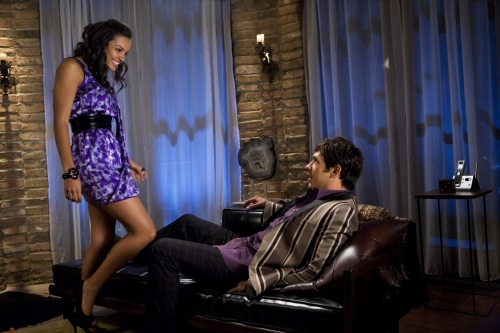 Amanda and Ben: We were quickly introduced to this relationship. While the tease, and subsequent denial, of an engagement was painfully obvious from the moment Ben said he had a surprise, big present... at least this gave us a chance to see a softer side to Amanda. She was clearly hurt by the snub.
This was quickly followed by her scheming side, of course. What are she and that investigator up to?!?
Auggie and Violet
: Most. Hilarious. Series. Exit. Ever. News of this cast shake-up was leaked months ago, so there was no logical way to write the characters out. But we laughed out loud at Violet's repeated need to get away from "the building," as well as the rushed departure between this "couple." We use that term loosely because they've pretty much had sex like three times.
But, hey, you gotta trim the fat, right, Melrose Place? This pair's exit will allow Nick Zano to debut next week.
What did you think of the episode? Do you hope this show gets renewed?
Below, we've listed a few choice Melrose Place quotes from "Oriole."
Amanda: I know you fancy yourself my protege, but let's face it: you don't measure up. | permalink
Amanda: Ella, in what universe, for one second, would you think I was threatened by you? | permalink
Auggie: My whole life is here.
Violet: What life? You could be a chef anywhere. | permalink
Ella: We have got to get you on Top Chef. Then, you can introduce me to Padma! | permalink
Riley: I am lost. I am confused. But the one thing I do know: the last five years with you has been the best five years of my life. | permalink
Matt Richenthal is the Editor in Chief of TV Fanatic. Follow him on Twitter and on Google+.

Tags: Melrose Place, Reviews
Want more Melrose Place?
Sign up for our daily newsletter and receive the latest tv news delivered to your inbox for free!
More From TV Fanatic

On tonight's Gang Related, Ryan was forced to make a difficult decision. Which side did he chose?

On the latest episode of Satisfaction Neil learns an important lesson about being honest with himself from Adriana while Grace struggles on her new job. Read on for analysis.

Oliver turns down extending his contract as Acting Staff Sergeant until Duncan's dismissal hearing turns unpredictable on Rookie Blue.

On tonight's The Bridge, Marco is made an offer that he initially refuses. Will he agree to go after Fausto?
---