For whatever reason, Family Guy decided to have a Dustin Hoffman marathon last night as Stewie decided to go Tootsie to land a role on his favorite show, while Lois went Mrs. Robinson on Meg's boyfriend.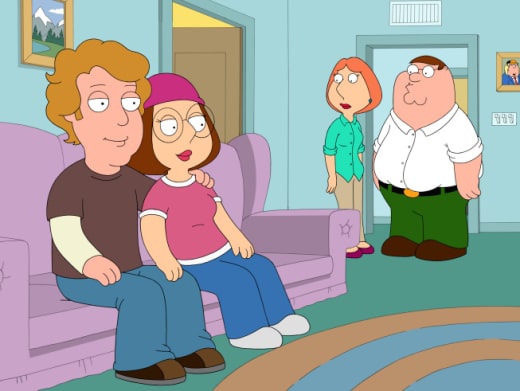 Stewie's storyline was definitely the main plot of "Go Stewie Go," which is good, because it was the stronger of the two.  Stewie put on a wig, a dress, and changed his voice to be Karina Smirnoff to land a role on the Jolly Farm Revue.
First off, kudos to MacFarlane's voice work as not only did he do a voice of a character doing another voice the whole episode, but he even had several arguments between the character.  Knowing that showoff, he probably did it all in one take.
Whether it was Karina coming on to the ever-direct Brian (hey, he only has 13 years on this planet, gotta be direct), or the ever-confusion over Stewie's sexuality, the story was loaded with good jokes as it closesly followed its Tootsie's roots.
Meanwhile, the B story was certainly not as strong.  We're actually a little shocked that Lois actually was planning on having the affair with Meg's boyfriend if she wasn't walked in on.
Good for you Lois.  Despite flashbacks that tell the story, we'll never comprehend how Peter managed to land Lois or how he keeps her with the way he treats her.  Owell, it is a cartoon.
Our favorite Family Guy quotes from this pretty decent episode are after the jump.
Peter: Lois, you have a gray hair.
Lois: What?
Peter: Inch and a half left of your part.
Lois: Oh my god, you're right.
Peter: You know I don't mind so much that you're aging, it's just the way you're shoving it down my throat.
Lois: Screw you Peter.
Peter: Wow, not today. | permalink
Peter: She ain't what she used to be. Once you get those pants off it's like two sagging breast hams and a slice of pizza.
Lois: Thank you, Peter, that makes me feel terrific. | permalink
Stewie: I think I'm in love with Julie. Whenever I talk to her, it makes my bandaid start to peel off.
Brian: What are you talking about?
Stewie: I'm talking about the thing. I gotta hide it for the cameras. Instead of tucking, I just push it in like a button and put a bandaid over it.
Brian: What kind of bandaid?
Stewie: A big one, big giant one. Nah, just one of those dots you put on a shot. | permalink
Stewie: A perfectly normal little boy! Who just happens to be a transvestite! Which ... begins with the letter T. | permalink
Eric Hochberger is the programmer of TV Fanatic, so please forgive his mediocre writing. His programming is far better. Follow him on Twitter and/or email him. Just don't request threaded comments. They're coming.