Welcome back from winter break, 90210 fans: Where did you spend the holidays?
We're just kidding... but it was a little weird to have the students returning from Las Vegas, St. Bart's and other winter vacations, wasn't it? That aside, the episode "Rats & Heroes" set the stage nicely for the second half of season two.
Let's start with the storyline that has received all the buzz leading up to this return installment: Gia and Adrianna. This sudden closeness feels forced, but at least the kiss between the gals had an ulterior motive:
Adrianna wanted to help Gia make her ex jealous. We can buy that. It's far more preferable than having these two actually develop feelings for one another so quickly, although we all know that's where this is going.
Still, can we take our readers' pulse: what did you all think about this sudden bond? Would Adrianna really have called Gia in such a panic because she had a sip of rum? Drugs, not alcohol, was always her problem.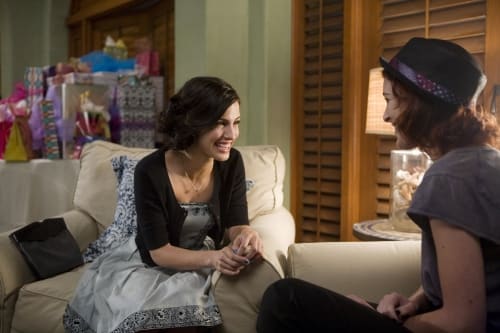 Annie, meanwhile, has a problem of his own - and his name is Jasper.
It's taken a long time for this storyline to get going, and it's a little strange to trace it back and make sense out of Jasper's thinking (Did he always plan on blackmailing Annie? Did he actually fall for her and this was a last-minute threat to save the relationship? It seems like the writers themselves didn't figure it out until the last moment.)
But Zachary Ray Sherman has done a great, creepy job with Jasper and we can certainly sympathize with Annie when the episode concludes. The development would have been more effective if it took place sooner, though.
We're sorry to say, but we stopped caring about Annie a long time ago.
As for
Dixon and Silver
? Blah. These two were our favorite couple when they were together and clicking... but now it just feels like the show is spinning its wheels until Silver gets together with Teddy. Can't we just start that relationship already?
Quick note to Debbie: Your yoga instructor? The response to that should: NO-ga!
Finally, we come to Liam and Naomi. In a word: hot! In two words: very hot! It makes perfect sense that verbal communication would not be the basis for this relationship, as the pair really are quite different (he builds boats, she sun bathes on them). But a birthday suit is a nice look on Naomi. That's all it takes sometimes.
But can we find a guy for Ivy please? We know she isn't actually over Liam, but we doubt she'll ever wrestle him away from Naomi. And that surfer chick is awesome!
What did you think of the episode? Talk about it in our 90210 forum and relive the best 90210 quotes from it below:
Jasper: We're soulmates. Know what that means? Soulmates, they're forever. | permalink
Naomi: I'd feel naked without it.
Silver: Why?
Naomi: Because I'm naked without it. | permalink
Ivy: Liam, get over yourself... cuz I did. | permalink
Liam: This is boring.
Naomi: It's not boring. Deck panels are... rad. | permalink
Adrianna: Didn't know you were in AA.
Gia: Sort of what the "anonymous" is about. | permalink
Annie: It's complicated.
Naomi: What's complicated about it? He's a drug dealer. | permalink
Matt Richenthal is the Editor in Chief of TV Fanatic. Follow him on Twitter and on Google+.