The Good Wife had quite a challenge ahead of itself last night: it went up against the second half of the Lost season premiere.
But the CBS drama remained true to the formula that's gotten it this far: strong storytelling and powerful performances. The episode "Bad," thankfully, didn't resort to anything out of the ordinary in order to compete against the aforementioned ABC smash.
The installment did feature a pair of excellent guest stars, though: Dylan Baker totally creeped us out as the man suspected of murdering his wife; while Mamie Gummer proved the acting apple doesn't fall far from the tree:
She's the daughter of Meryl Streep.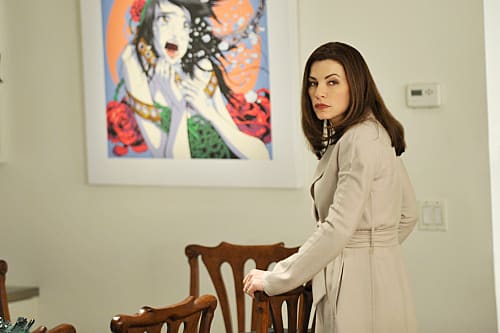 This episode does lose a few points for failing to capitalize on its gun-based storyline involving Diane.
Considering the time given to its two main cases, both of which were fascinating (Peter's trial and Baker's character's civil case), this plot development felt short-changed, which is too bad. Instead of wrapping up such a promising character piece, we'd have preferred if the show introduced it this week and kept it going for another episode or two. 
But the taste we were left with when "Bad" concluded was enough to make us anxious for next week.
Will Peter accept Childs' offer? Is Childs only making that offer because he's afraid he'll lose in court, in which Peter might as well go through with the case?
It seems hard to believe Peter will say yes, go home and have no career to pursue. At the same time, the series can only go so long with the tease of when he'll return to Alicia and how that relationship will work.
What do you think will happen?
Matt Richenthal is the Editor in Chief of TV Fanatic. Follow him on Twitter and on Google+.