Grey's Anatomy Cast Speaks on the Chief's Ousting
Steve Marsi at .
It's safe to say the Seattle Grace-Mercy West merger did not work out for anyone.
No offense to Dr. Jackson Avery (Jesse Williams) and his good looks, but no one else came out of this looking good. Especially not the Chief, who started drinking again.
On Thursday's episode of Grey's Anatomy, "I Like You So Much Better When You're Naked," the truth finally came out thanks to Derek, who's poised to take the top job.
So what does this mean for James Pickens, Jr., (Chief Richard Webber) staying on the show? How will the doctors take to Patrick Dempsey's Derek being the boss now?
Sources say Pickens is not leaving the show and Derek is not permanently taking his position. But Derek will be acting as interim chief while Richard works on his issues.
Not everyone will be happy about that, either.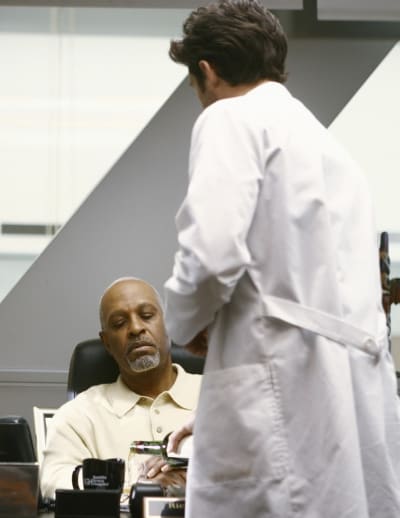 Richard is out as Chief and Derek is stepping up - at least for now.
"Obviously the minute that your leader trips, there's a ripple effect that happens throughout the hospital," Jessica Capshaw said. "It's going to bring great challenge."
"Is he going to leave, is he going to get help, is he not going to get help, who's going to get help for him, is he going to get help for himself?" the actress pondered.
Co-star Justin Chambers added: "We're all in shock because for me, the Chief has always represented someone stoic and smart and definitely experienced. I still respect McDreamy, but to see him as the big cheese is going to be kind of strange."
So strange, in fact, the hospital will be divided in two.
While some doctors can see that Derek was doing what was right for the hospital, others accuse him of betraying the Chief. Owen Hunt (Kevin McKidd) is on Team Der.
"Owen has a scene where he kind of supports him," McKidd said. "Derek asks, 'Do you feel like I'm being selfish?' and he says, 'If this benefits the most amount of people, then that's the right decision. If it's just benefiting you, it's the wrong decision.'"
If you think Meredith (Ellen Pompeo) is all of a sudden going to get special treatment for being married to the interim head honcho, then you best think again.
"Meredith is so good anyway," said Chambers. "She has a high IQ, she does every surgery impeccably. I don't think we'll have a problem with her. However, I'm sure Alex will throw out a few words that aren't necessarily polite about her sleeping with the Chief."
What do you predict will happen? When will Richard reclaim his post? Do you think Derek acted for the right reasons? Sound off on recent developments below ...
Steve Marsi is the Managing Editor of TV Fanatic. Follow him on Google+ or email him here.