You gotta admire the way Conan O'Brien has handled the unfair, amateur way in which he's been treated by NBC.
A day after Jay Leno's move back to 11:35 p.m. was confirmed, O'Brien issued a thorough, funny, professional bitter statement that was right on every mark.
He began with:
"People of Earth: In the last few days, I've been getting a lot of sympathy calls, and I want to start by making it clear that no one should waste a second feeling sorry for me. I've been suddenly put in a very public predicament and my bosses are demanding an immediate decision."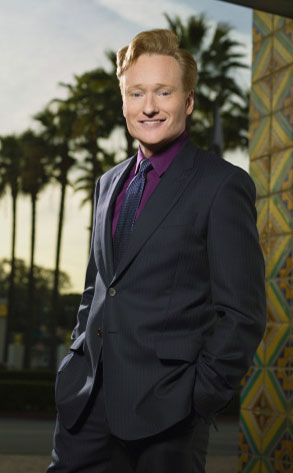 Conan then gets personal and explains what following Johnny Carson meant to him as a child and how he signed a contract six years ago to fulfill a lifelong dream as host of The Tonight Show. From there:

"Last Thursday, NBC executives told me they intended to move the Tonight Show to 12:05 to accommodate the Jay Leno Show at 11:35. For 60 years, the Tonight Show has aired immediately following the late local news. I sincerely believe that delaying the Tonight Show into the next day to accommodate another comedy program will seriously damage what I consider to be the greatest franchise in the history of broadcasting.

"The Tonight Show at 12:05 simply isn't the Tonight Show.

"Also, if I accept this move I will be knocking the Late Night show, which I inherited from David Letterman and passed on to Jimmy Fallon, out of its long-held time slot. That would hurt the other NBC franchise that I love, and it would be unfair to Jimmy."

After saying he hopes NBC and his reps reach an agreement shortly, O'Brien concludes as originally and as adorably has he began.

"Have a great day and, for the record, I am truly sorry about my hair; it's always been that way."

What might Conan do if he can't host a talk show? He offers some ideas below.

[video url="http://www.tvfanatic.com/videos/conan-obrien-monologue/" title="Conan O'Brien Monologue"] [/video]

Matt Richenthal is the Editor in Chief of TV Fanatic. Follow him on Twitter and on Google+.

Tags: TV News, Conan O'Brien