The Ghost Whisperer Review: "Excessive Forces"
at .
Melinda's work seemed to carry much of the entire episode, but there was a couple cute scene's with her family. For one, her son Aiden is adorable - kinda creepy, yes, but nonetheless adorable. And the picture perfect family gathering by the new car with a big red bow on top - kinda had me choke back a couple tears, no lie..
Besides that, this episode was able to carry it's own weight. Who doesn't love a good "good cop gone bad" story? This definitely set the scene for some major unexpected scenes.
One minor non-related point to bring up - how great is it to look at a man in uniform? Ladies - am I right? Doesn't really matter if it is a cop, firefighter, sailor, officer or even just a hot shot mafioso type all suited up, dayum! And that Brotha sure knew how to work it. Did you get a chance to check out the back door goods?! Kinda gets us feeling a wee bit hot and bothered!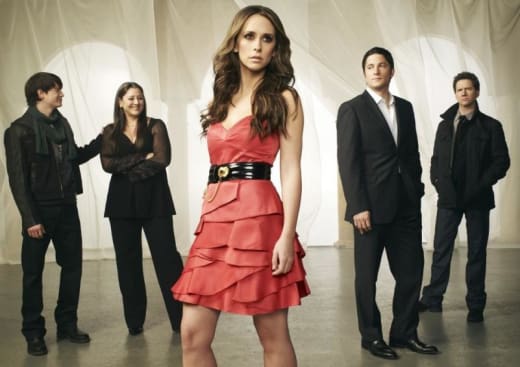 Okay, okay, back to the story line - "Excessive Forces" did have plenty of shock value, but nothing quite compared to the ole "let's fill the mailbox with cement to show those meddling teenagers a thing or two about smashing someones private property"...Wow - is all we can say. 
Never expected that one coming...but it does serve as a very important lesson to all ya teenie boppers out there that may think riding around and smashing mailboxes is a cool thing to do. 
We say, lesson well learned.
Before we go and until next time, we leave you with a couple of our favorite The Ghost Whisperer Quotes. Hope y'all have a spookactular night!
Melinda: Sometimes a hug is just what you need. | permalink
Eli: Hats off to Dylan. It takes a lot of cajones to date a cops daughter. | permalink
Jim: A field sobriety test? Is he drunk?
Melinda: No, he's just Eli. | permalink