The Son Also Loses.
It was not a good day for SAMCRO on the second season finale. Just when the group thought they it finally get its vengeance on Ethan Zobelle for all the torment he has brought them, a new threat appeared in the form of a distraught father, Cameron Hayes, whose actions may forever damage Jax and cost him his own chance at being a father.
While not everyone member of the League of American Nationals made it out of Charming alive, Ethan Zobelle managed to slither away from the clutches of SAMCRO; while the repercussions of Gemma's own vengeful actions may have cost her her freedom - and Jax both a mother and son. Read a detailed recap of "Na Trioblidí" and then our review below...
What Worked: SAMCROs Looking More Like Vultures
It was a pretty cool shot to see the entire crew lounging on a Charming Police Department cruiser outside of the station, waiting for Zobelle and Weston to be released. They looked perfectly calm and comfortable, clearly once again the kings of their town.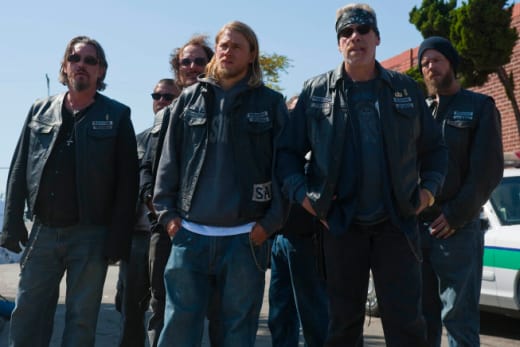 What Didn't: Pigs Flying Blind
Look, we understand that SAMCRO runs Charming, even if Deputy Hale wants to put them away. But all the violence that happened in this episode - the gang stare downs on Main Street between SAMCRO and the Mayans; the murder of AJ Weston; the full-on gunfight in the middle of the highway - had to have been noticed by someone not on the take, right? We mean, in addition to Charming's finest, and the county sheriffs, the ATF and the FBI both have seemingly entire agencies set up in the town. How is this not going to come back to the club.
What Really Worked: Killer Cop Lines
Unser is a SAMCRO man through and through, but Deputy Hale is a strict lawman and knows that he will ultimately have to take the crew down. However, whatever each feels about the motorcycle gang operating in their town, they are both disgusted and enraged by AJ Weston and Ethan Zobelle. Both got in good lines against these scumbags in the season finale. First up was Unser, who told Weston that Zobelle was an FBI informant.
When Weston questions why Unser would give him such information, he explains his utter hatred for the two and snarls, "I hope you rip each other to shreds." The best line, however, came from Deputy Hale who relished the opportunity to tell Zobelle that his daughter was dead. When Zobelle calls Hale asking for protection from SAMCRO, he responds, "It's a bad day to be a Zobelle in Charming" and then drops the bomb that Polly has been killed. Hale then refuses to send back-up to rescue Zobelle, earning him points in our book.
What Didn't: Crappy Killer Lines
We love Happy. He's a stone-cold killer and whenever he's on screen, we know that the club is ready to rumble. But his line to Jax upon learning that Jax has killed Weston - "I am so proud of you" - was just lame. When you're being outdone by Deputy Hale in the badass quote department, you know you're having a bad day. At least Clay got in a good line for the bad guys, when asked why he didn't tell Alvarez that Zobelle, the man he's protecting, is a rat. "He'd kill him," Clay says. "And that's mine."
What Really Worked: Polly's Chest
Polly Zobelle in a tank top. At least we got to see that one more time. I bet Edmond Hayes is kicking himself that he went ahead and got dead before she came over. My goodness (though Polly, when next you're reincarnated, please note that there's no need to bring the guy flowers, okay? Your bulbs are all he needs)
What Really Didn't: Weston's Chest
Just a brutal, hateful and quite visible tattoo sprawled across Weston's chest. We can only hope that several of the bullets Jax unloaded into him found their way into his chest and not his head.
What Really, Really Worked: Fathers and Sons and the Sons
The season finale captured perfectly the driving plot of the entire season: fathers and sons. SAMCRO was split from the beginning of the season because of a division between Jax and his step-father, Clay. Jax did forge a new bond with his long-dead father by reading his journal, and through this bond he has ideas on how to strengthen the club. However, the club needs Jax and Clay together and spent much of the season at its weakest point, and almost disappeared entirely, because of this ruptured bond.
But their shared love for Gemma brought these two back, and in the last two episodes we've seen how strong the bond between this set of father and son is, and how the club draws its strength from them. AJ Weston's love for his sons cost him his life - he could have escaped Charming but went back for his boys and was executed as a result. Cameron Hayes' love for his son drives him mad when he loses him and he goes off on SAMCRO, killing the Prospect and kidnapping Abel Teller.
Jax, stoic and tough the entire season, carrying the burden of knowing what Clay did to Opie's wife, of knowing what Clay may have done to his father, of knowing what Weston and Zobelle did to his mother, finally breaks down when his son is taken from him. The episode captures the importance the father/son relationship has to the show in the moment when Jax calls out to Clay, telling him he needs him. Clay has spent the entire season trying to rid himself of Zobelle, first because he threatened the club and then because of what he did to Gemma.
But even though Zobelle was his for the taking, Clay dropped everything to help his son and save his grandson. That one look he gave while on the phone with Jax is the perfect image to hold on to until the next season: though the Sons may have lost in the season finale, that bond has returned and it won't be long before they're back and stronger than ever.
Matt Richenthal is the Editor in Chief of TV Fanatic. Follow him on Twitter and on Google+.