Glee spoiler alert: if you have not seen this week's new episode, go watch it now and/or read our review of Mattress before going any further.
Ok? All set? Phew. That was close...
After months of deceiving husband Will in the worst way possible, Terri was finally busted last night: her fake pregnancy was discovered in an incredibly emotional, truly heart-wrenching scene.
Will stormed out and spent the night at school, causing viewers to wonder: are actress Jessalyn Gilsig's days on the show numbered? It's hard to see how the Schuester marriage survives this development.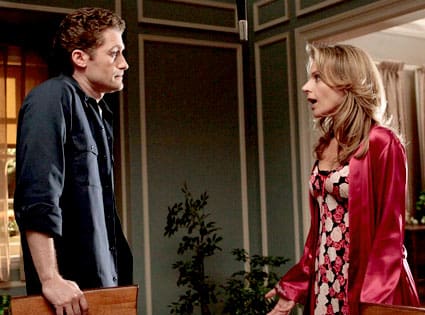 "[Terri was] created obviously to be an obstacle between Emma and Will," Gilsig told E! News. "They needed an obstacle, otherwise there's no show. What's been fun about it is that she's managed to emerge as a character unto herself with her own complexities."
That's for sure! Despite the painful pregnancy storyline, Gilsig did the best with what she had. We've been a fan of this actress since her stint two seasons ago on Friday Night Lights.
If she is leaving Glee, the exit won't take place until next year.
"I'll be back [to shoot] in January, so keep hope alive that Terri will stick around. I'll hang in there as long as I can."
What do you think, fans? Do you wanna see Terri remain on Glee? Either as Will's wife or in a different capacity if she and Will separate?
Matt Richenthal is the Editor in Chief of TV Fanatic. Follow him on Twitter and on Google+.