This episode of Dexter had been publicized all week with phrases typically reserved for season finales. It would be shocking, it would leave viewers breathless, it would be a game-changer.
Only this time, unlike other shows that fail to deliver on their hype, there was no hyperbole involved. It was all true; and viewers were left with only a Deb-like response to the conclusion:
Holy $hit.
Read our recap of "The Getaway" before moving on - because the rest of this review goes into the stunning events in detail!
While many fans guessed that Rita might not make it out of the season alive, no one could have been prepared for the final scene of her body... lifeless... in a pool of her own blood... with Harrison bawling on the floor.
More than any season prior to it, this year's set of episodes dealt with Dexter's past and, specifically, its affect on his future.
The enthralling entanglement with Arthur Mitchell served as an ideal platform on which to consider Dexter's dichotomous dilemma: will his dark passenger inevitably ruin his family? Or, as Deb and Rita have both made it clear, is his presence in their lives a positive thing?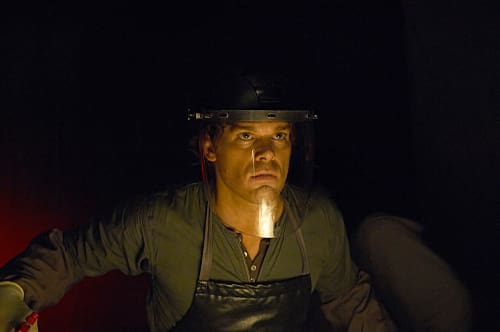 Just when it seemed as if Dexter could have it all, as if the love of those around him could defeat his darkness in the end, everything changed. Rita's death leaves fans with a series of purely practical questions heading into next season:
Will her murder be connected to Trinity?
If so, how does Dexter explain why his family would be targeted?
Who will Dexter become?
The final issue, we'd have to imagine, will be the main focus of season five. Does Dexter go on a killing spree? Flee Miami? Raise the kids alone? There's truly no way to predict how someone with Dexter's demons - and secrets - responds to this kind of heinous act.
There's little to say at this point about Michael C. Hall's performance, but the brilliance lies in how viewers can never truly understand the man he portrays. That's the idea, of course. Dexter doesn't know who he is, so how can anyone else? When he cried into Rita's lap this week, the emotions seemed to flow naturally out of Dexter. After all, his wife was (somewhat) recognizing his dark passenger and still saying it would be okay.
But there's no way of knowing for certain what Dexter was thinking. The actor has become so skilled at emoting when it seems like a typical human being would do so, that viewers are left to wonder whether anything is sincere. Except in his killing room, that is. Hall has mastered the delight Dexter takes in the one act that brings him true joy.
It's an exquisite performance and a tremendous show.
We'll leave readers with a few Dexter quotes from the episode and let the discussion flow about how this season ended and how next season might possibly begin...
Arthur: You think you're better than I am?
Dexter: No. But I want to be. | permalink
Deb: I love you.
Dexter: I'm so thankful. | permalink
Dexter: How is it I can kill people and feel no regret, but disappointing Rita makes me feel like the scum of the earth? | permalink
Dexter: My dark passenger is ruining my life.
Harry: It is your life. | permalink
Matt Richenthal is the Editor in Chief of TV Fanatic. Follow him on Twitter and on Google+.