Warning: Don't read any further unless you are caught up on last night's stunning Dexter season finale.
Once you've caught your breath from the shocking conclusion to the episode, check out the must-read interview below. Michael Ausiello spoke with Dexter producer Clyde Phillips about the decision to kill off a series regular...
On Rita's demise: The story evolved and it kind of became inevitable. We knew that we had to do more than kill Trinity. It's a little bit of a corner that we paint ourselves into. Last year we tried to avoid that and actually I think we didn't do as well as we could have. We killed off Jimmy Smits' character [in the 11th episode] of 12 episodes and then we had to figure out what we were going to do in the 12th episode.
This season, we knew that we were going to take Trinity out in the 12th episode and we think that the audience knew that, too. We had to raise the bar to as high as possible and then figure out what to do next year.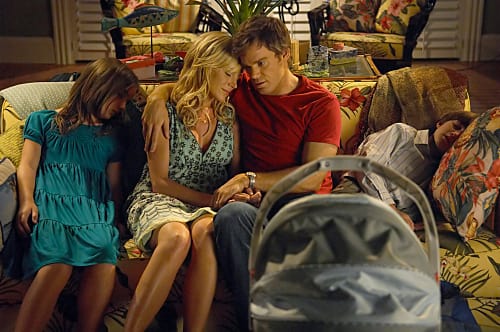 Dexter's happy family life took the biggest hit possible at the conclusion to season four. How will the dark passenger respond?
On Rita's possible, Harry-like return as a ghost: The answer, at the moment, is no. However, had you asked me two years ago if Lundy was coming back I would've said no. We didn't know he was coming back until this year. It just seemed expedient to the story — to Dexter's story and to Deb's story.
On season five storylines: He is a single father. But, beyond that, we don't know. We don't know if there's going to be what we call "a Big Bad," like Jimmy Smiths and John Lithgow, or if it's going to be more individual, stand-alone stories.
Were you happy the show killed off Rita? Where can the show go from here? Where will it go?
So many questions, (unfortunately) so much time to ponder them. Weigh in with a comment today!
Matt Richenthal is the Editor in Chief of TV Fanatic. Follow him on Twitter and on Google+.