OMG, JUST KILL MOHINDER ALREADY!!!!
We actually liked this week's episode, but it's almost comical how the show refuses to kill off Mohinder. He's a character that lost his way seasons ago, that has no fan base and no direction.
Nevertheless, Heroes keeps him around, even when it's not necessary. Didn't Samuel simply tell Hiro to retrieve the movie this week and he'd pass along Charlie's whereabouts? Why did Hiro need to hide Mohinder in that case? Samuel has admitted that killing Mohinder was a mistake. Wouldn't he actually be happy that Hiro changed the past?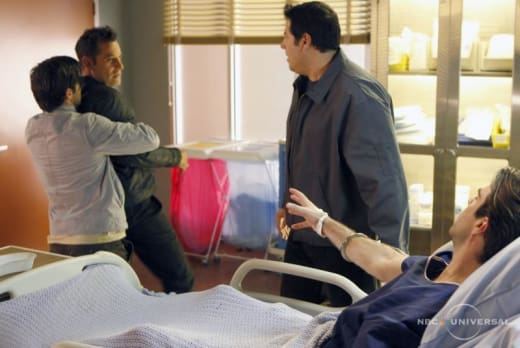 That complaint aside, there was a lot to like about "Brother's Keeper." For example...
... Nathan knows he's Sylar. We're sad Adrian Pasdar is leaving the show, but there was only so long this storyline and these multiple Sylars could go on. Should make for a dramatic farewell now when Nathan exits.
... Samuel's past was explained. The more Robert Knepper, the better. This guy kills every scene he's in (no pun intended!) and it was interesting to see how Joseph actually tried to shelter his brother from his abilities. Causes us to wonder: will we learn the circumstances behind Joseph's death and/or why Samuel is now trying to pay tribute to his memory?
... Tracy got into a bathtub in her underwear. That was neat.
Visit our HEROES FORUM now and discuss this episode in depth. Did it move the plot along well? Did you like it?
Matt Richenthal is the Editor in Chief of TV Fanatic. Follow him on Twitter and on Google+.