Glee hit all the right notes this week.
Hilarious and emotional, "Ballad" paired Will up with Rachel and Kurt up with Finn. The resulting storylines featured unrequited love, dangerous emotions and some great facial expressions. Check out our full recap of the episode now.
The Will and Rachel pairing allowed the show to combine music with humor.
Two of the funniest scenes in series history took place when Will first sung to Rachel and noticed a developing crush in her eyes; and when Will tried to tamper down Rachel's love via song... only to come across as cuter and more desirable than ever to both her and Emma. We could watch Jayma Mays, as Emma, smile and clap all day. She's adorable. See below: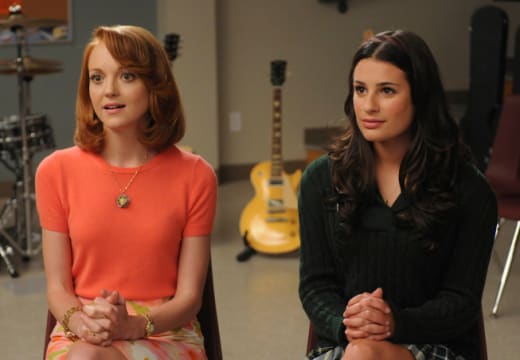 Like Emma and Rachel, get lost in Glee music from this episode right now. Swoon...
The episode also proved that Terri could actually be a funny character, if the show hadn't saddled her with such a ridiculous storyline. Are we really supposed to believe that Will hasn't seen his wife's stomach in months? That's a stretch.
Not a stretch, however, was the reaction of Quinn's parents to their daughter's pregnancy. Sadly, there are plenty of real-life families that would react the same way.
For those wondering, Mrs. Fabary was played by one of our favorites: former NYPD Blue star Charlotte Ross.
Overall, despite a lack of substantial storylines and even a lack of Sue Sylvester, the episode showcased great songs and the ideal combination of humor and sentimentality. We're not surprised, of course. That's how Glee rolls.
The Glee cast, meanwhile, spat out the following quotes throughout the hour:
Will: You're making her clean our bathroom?
Terri: I've been dealing with these school girl crushes for years. Why shouldn't I get something out of it? | permalink
Kurt: He's cheating off a girl who thinks she square root of four is rainbows. | permalink
Kurt: How do you explain her constant irritation with you? It's because SHE'S A GIRL. | permalink
Emma: If we were to rank crushable teachers in this school, you'd be number-one with a bullet. | permalink
Matt Richenthal is the Editor in Chief of TV Fanatic. Follow him on Twitter and on Google+.