Katie Kent is back. And she is on trial.
That, of course, is Violet's insane baby-snatcher and C-section performer from the Season 2 finale of Private Practice. And Violet, of course, cannot bring herself to testify.
She's not ready to relive it, but then Katie herself asks Violet to testify (she thinks this will prove she is crazy and get her the help she needs, rather than a prison term).
Violet plunges into a crisis of conscience. Who will testify at the trial, if she does so at all - Violet the victim or Dr. Turner the medical expert? Whose opinion should count?
This is the theme of last night's "Strange Bedfellows."
This was inevitable and a bit too drawn out, but what was more compelling was the affect on Pete as well. He wants Katie to be sent away and do time for what she did.
It's not happening. Violet tells the court that, in her expert opinion, Katie was temporarily insane. Pete is not pleased, and that is when Violet realizes he is a victim too.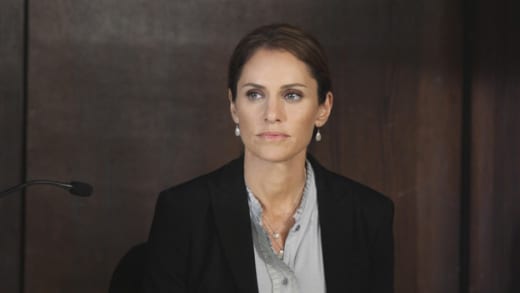 Pete has been saddled with the burden of losing the woman he loves, as well as having to care for baby Lucas. She apologizes. He says she owes no apologies, but ...
... please come home. Typical cheesy Private Practice. But you gotta admit, you want her to come back to him, don't you? If not, check yourself for a pulse, people!
Elsewhere, Charlotte is trying to get Sam to sign off on her joining the practice. He eventually does. Sweet, right? Not for Cooper when he learns her new specialty.
That would be "sexology." If you think that makes her sound like a hooker, that's exactly what Cooper said. Charlotte wasn't too thrilled. He got drunk. It got worse.
Even though it is a bit cliched that Cooper is so insecure about the specialty, we love these two together, and liked the way it was resolved. Strong women are cool.
Lastly, Addison and Naomi deal with the swapped unborn babies from last season's finale, one of whom has a tumor that will kill it without (equally risky) surgery.
The women have grown close, though, so the surgery happens. It fails. The other one runs away with the baby still inside her. We smell a return around March.
Steve Marsi is the Managing Editor of TV Fanatic. Follow him on Google+ or email him here.