This season of Supernatural focuses on the impending Apocalypse.
Some would say it's therefore apt that Paris Hilton guest stars on Friday's episode, "Fallen Idol."
During the hour, as Supernatural spoilers have spilled, Sam and Dean visit a small town where residents are murdered by famous dead icons. One zombie takes the form of Hilton, who makes a cameo, seen below: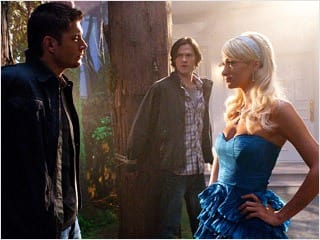 Creator Eric Kripke at least acknowledges that fans may think Hilton's appearance on his show spells the end of the world; or at least the end of its creative storyline.
But he told Entertainment Weekly: "I don't think we're gassing up the motorcyle to jump the shark yet... it's a fun, irreverent episode about modern celebrity."
And about sex tape starring skanks that require non-stop attention, apparently.
Matt Richenthal is the Editor in Chief of TV Fanatic. Follow him on Twitter and on Google+.