Heroes spoiler alert: Hiro is about to get the girl!
While the fourth season of this drama has been a tad depressing - Parkman is going insane, Nathan is dead and HRG is lost - viewers are in for some good news next week, as Hiro travels three years into the past in order to save Charlie.
Does he succeed? The following picture is worth a thousand, positive words: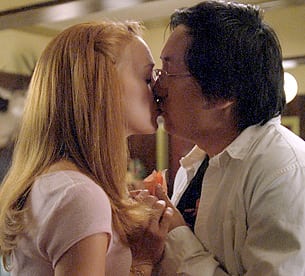 Masi Oka said the following to TV Guide Magazine about the upcoming installment, "Once Upon a Time in Texas."
"This was one of my favorite episodes of the series. I had the opportunity to explore the many layers of Hiro. It was truly wonderful working with [Jayma Mays] again and I even got to play against a younger me. Ah, how naive we were.
"It's an episode full of joy and tears. It's Hiro's 'Company Man' and our homage to episode 8 in season 1. This scene is where Hiro finally gets his long awaited kiss. His dream upon the thousand cranes, the origami in his left hand, came true. But is there a happy ending? It's Heroes after all. I hope you enjoy watching the episode as much as I had making it."
Many consider Company Man to be the show's best episode of all-time, so this tease has us counting down the seconds until Monday night!
Matt Richenthal is the Editor in Chief of TV Fanatic. Follow him on Twitter and on Google+.