Episode four of Gossip Girl is going to be a celebrity bonanza, as we know.
According to E! Online, Hilary Duff arrives on the NYU scene to canoodle with Penn Badgley's Dan Humphrey (the episode is titled "Dan de Fleurette") and both Tyra Banks and designer Tory Burch are guest starring as well.
Why?
Because Serena (Blake Lively) gets a gig as a celebrity publicist and, while working a movie premiere, finds herself in the company of these magazine-cover staples.
Perhaps they can tell her how to get more celebrity gossip attention?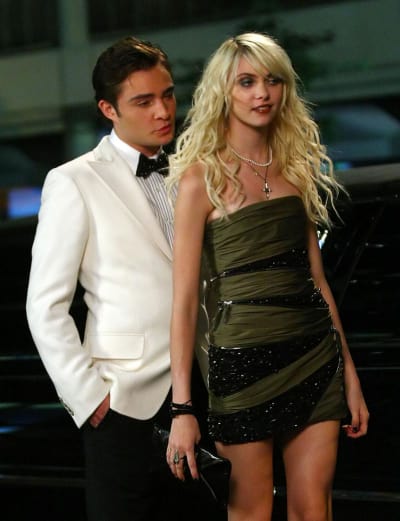 Meanwhile, another photo from behind the scenes of "Dan de Fleurette" shows Taylor Momsen's Little J and Ed Westwick's Chuck Bass spending time together.
What could possibly lead to such a unlikely conversation? Well, it's Gossip Girl, so it makes sense that a shady plot has brought them together (see video clip).
From everything we've heard, Little J and Chuck are up to no good - they need each other for a scheme - and when Blair finds out, she may well blow a gasket.
Are you excited for Tyra and Hilary on Gossip Girl? Or are they just stealing screen time from Chair? What are Chuck and Jenny scheming about? What do you think of Serena's daddy-please-call-me plans?
Discuss!
Steve Marsi is the Managing Editor of TV Fanatic. Follow him on Google+ or email him here.