During a recent interview with TV Guide, Castle stars Stana Katic and Nathan Fillion were more playful than revealing.
They didn't have a great deal to say about whether or not their characters would eventually lock lips, but the actors did dish on a few series-related topics. Here are a few excerpts:
Katic, on Rick Castle: "There's a wonderful undercurrent that we get to see when he is in scenes with his mother and daughter. I think you see a real heart that beats there, and I think that as episodes continue, people will get to be charmed by that side as well."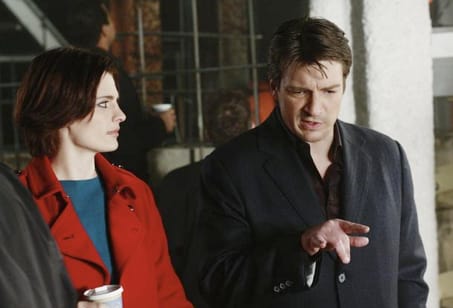 Fillion, on Castle's attraction to Beckett: "One of the things that attracts him so much to Beckett is that he can't crack that shell," he says. "He can't get to that spot, so he keeps chasing her. And she's a real authority figure; no one else really has control over Castle the way Beckett does."
Katic, on a potential love triangle with guest star Debi Mazar: "Honey, we never kiss and tell. You'll have to watch and see," she says.
Matt Richenthal is the Editor in Chief of TV Fanatic. Follow him on Twitter and on Google+.