One Tree Hill Season Seven: Lots of "Nakedness" to Come!
by Matt Richenthal at .
Dan might father a baby and get engaged on season seven of One Tree Hill.
Still, that actually isn't the most exciting show news of the week.
E! News spoke to Lisa Goldstein and Lee Norris this week, and the adorable duo assured viewers that Mouth and Millie were still on the fast track to love. Moreover, this track will be littered with very little clothing.
"There will be shirts and other things taken off this season. [It's] the season of nakedness on One Tree Hill, so look out!" Lee said.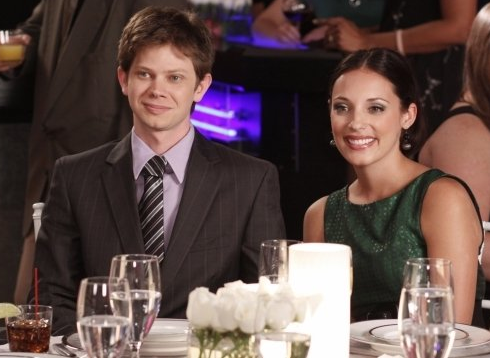 Meanwhile, Robert Buckley confirmed that he and James Lafferty will often make like Matthew McConaughey this fall.

"I've heard there may be some shirtless jogging between myself and James," he said.

As for Millie? Take it away, Goldstein.

"Millicent's always been kind of a shy, insecure girl, but I think this season she's going to take the reigns and be more outgoing and confident."

Then there's

Shantel VanSanten

, who joins the cast this season as Haley's older sister. Quinn. She's bound to cause problems, right?

"I'm a photographer, very artistic and married," said VanSanten. "I come back to Haley's life to cause some drama and stir up some energy."

As for Buckley's new character, sports agent Clay, the actor said:

"You see him [as] a good friend of Nathan's, but at the same time, that's his client, so it's that balance of 'Yeah we're pals, but I'm also responsible for making sure you have food on the table for your wife and kids.' It's a fun conflict of interest between the two, but we're going to make sure the fans like this guy."

Have you ever seen yourself, Robert? We have a feeling they will.

Matt Richenthal is the Editor in Chief of TV Fanatic. Follow him on Twitter and on Google+.

Tags: One Tree Hill, Spoilers
Related Stories