Leighton Meester Sex Tape is Not Real, Actress Says
by Steve Marsi at .
Leighton Meester understands that being on Gossip Girl automatically puts her in the spotlight – but she doesn't have to like everything that comes with it.
"I don't want most of what comes along with all of this," says the 23-year-old star in September's Harper's Bazaar, certainly referring to one thing in particular.
One downside of fame? The rumored Leighton Meester sex tape.
"[The sex tape] is not real, so it makes me sort of sad," says the talented Gossip Girl starlet we love. "It's unfortunate that it got carried as far as it did."
Meester says the rumors about the sex tape - a video supposedly of her and an ex-boyfriend filmed years ago - taught her some lessons about life.
"I definitely understand the nature of people better now and that the mere allegation of something like that could be headline news," she laments.
"People will think it's real because somebody says it is. By the way, [as for] me being 18 in those pictures, I don't believe I was." Okay then.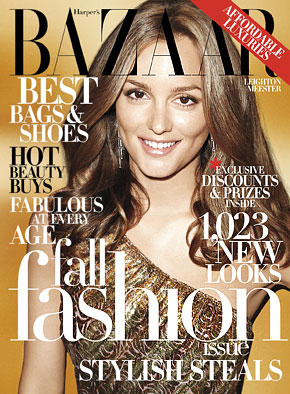 Fortunately for Leighton Meester, she has friends who watch out for her.

"I feel like my friends are in a cult because we're like, 'No outsiders!'" Meester says. "I've never been crazy. I'm a very good girl, to be honest. I don't do anything that would hurt anybody. Honestly, all I ever do is work."

"I'm doing everything I can to keep things separate," Leighton added.

Meester says she's nothing like manipulative Blair Waldorf in real life.

"I've never been crazy. I'm a very good girl, to be honest," she says. "I don't do anything to hurt anybody. Honestly, all I ever do is work."

One similarity: her close relationship with on-again, off-again TV beau Ed Westwick, who recalls his first meeting with her: "The first thing I thought when I met Leighton was, 'This girl's gorgeous.' And she was incredibly sweet."

"Now we tell each other to f--k off whenever we want to."

Leighton Meester also opens up about Botox.

"Any fear of aging, I think, is simply vanity because what comes with age is so many wonderful things: wisdom, understanding. Every year, I'm always happy," she says.

"If people want [to get Botox], do it."

Steve Marsi is the Managing Editor of TV Fanatic. Follow him on Google+ or email him here.

Tags: Gossip Girl
Related Stories