With two months to go until the premiere, Grey's Anatomy creator and executive producer Shonda Rhimes is opening up about the transitional new season ahead, as well as how Ellen Pompeo's pregnancy fits into the mix going forward.
Here are excerpts from EW's spoiler Q&A today ...
Q: Hey, do you have any Grey's Anatomy news that doesn't involve George or Izzie?
A: Yes - the entire cast will be following T.R. Knight out the door. At least series creator Shonda Rhimes is braced for them to. Eventually. She got to thinking about it both because of Knight's departure and Ellen Pompeo's impending maternity leave.
"It's going to be tricky," Rhimes says. "Ellen is incredibly optimistic and somehow thinks she will be back and ready to rock 'n' roll. [But] I have a child, so I know that that's not true. [So] we have a lovely story [on deck] that will take us into her maternity leave."
"And we have plans for some really interesting stand-alone episodes for [while she's gone]. But we're heading towards the future of the show and eventually, unless we are extremely lucky, everybody's going to go. That's what the end of Season 5 taught me."
"So we're looking at, How do we mess with that structure now while we have everybody and figure out ways in which, 'What would we do without Ellen? What would we do if we had an episode without Patrick Dempsey?' So Season 6 is important."
"A lot of shows don't make it because they don't know how to transition."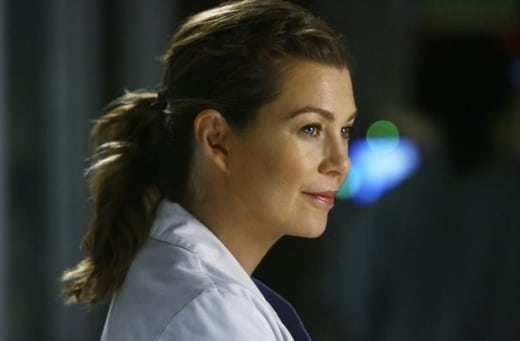 Can Rhimes envision Grey's Anatomy someday going on with Pompeo (and Mer) completely out of the picture?! "I don't know" she hedges. "I clearly want Meredith Grey on the show for as long as Ellen Pompeo wants to be on the show; that's not even a question."
"But I think that there's a possibility of [her leaving the series good at some point]. I haven't even thought that far. That's the one blank spot I have in my head. I can't really picture Mer Grey not appearing on the show. But [at least] we have Lexie Grey."
But would anyone watch Lexie Grey's Anatomy?
Q: Will Ellen Pompeo's pregnancy be written into Grey's Anatomy?
A: No. "Ellen is pregnant, but Meredith is not," Rhimes says. "Meredith wouldn't be pregnant."
Q: Now that Grey's Anatomy has finally started production, you got anything?
A: Look for Owen's PTSD to possibly flare up in the September 24 opener. I say this because a Grey's Anatomy mole says that Seattle Grace's go-to shrink, Amy Madigan, will appear in the second hour of the two-hour premiere.
Steve Marsi is the Managing Editor of TV Fanatic. Follow him on Google+ or email him here.