Grey's Anatomy Funeral Scene Raises Questions, Emotions
Steve Marsi at .
As the rare, outdoor behind-the-scenes photos from the set proved without a doubt this week, the cast of Grey's Anatomy is giving George O'Malley his official sayonara.
We knew it was coming, but some are having a hard time coming to grips with the prospect of no more O'Malley. He was not just an original character, but a fan favorite.
Spotted on the set were Katherine Heigl, who plays Izzie Stevens, George's best friend, and a very pregnant Ellen Pompeo, who plays the title character, Meredith Grey.
A few of the men were also back to work: Justin Chambers, who plays Alex Karev, and Patrick Dempsey, who plays Derek Shepherd. Others may have been there, too.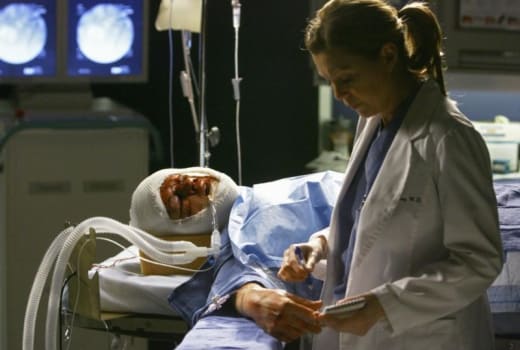 The demise of George O'Malley was not scripted this way initially.
It turns out that Grey's Anatomy creator and executive producer Shonda Rhimes originally had a different opening sequence planned for the 6th season of Grey's Anatomy.
A flashback was supposed to take viewers to the hours when George was missing, from when he left the hospital to when he returned later on as a disfigured John Doe.
However, Knight reportedly declined to make a brief cameo and instead of seeing George's split-second decision to save the passerby's life that cost him his own, viewers will just have to watch Shonda Rhimes' alternative idea, the funeral scene.
Which brings us to the characters and George's coffin.
Steve Marsi is the Managing Editor of TV Fanatic. Follow him on Google+ or email him here.