Grey's Anatomy Spoilers: A "New" George?
Steve Marsi at .
Will disgruntled star T.R. Knight ride off into the Grey's Anatomy sunset ... but George O'Malley remain at Seattle Grace? Did your brain just blow a fuse processing that one?
This Grey's Anatomy spoiler isn't really a spoiler, in that it's only a theory, with no merit to it whatsoever. Still, it's been thrown around in forums and now by EW's Michael Ausiello:
What if a disfigured "George" returned with a new face (as a new actor)?
If it sounds crazy that George would live, but be played by a new actor after Mark Sloan works his plastic surgery magic, that's because it is. Still, don't forget to consider:
That this story line was sort of done already with Alex's love interest, Ava (Elizabeth Reaser), who was so badly disfigured she got to "pick" a new face.
That in the third season, Meredith spent some time in the afterlife.
That Izzie spent much of Season 5 chilling with ghost Denny.
In short, the Grey's shark has been jumped already, and you can't rule anything out with Shonda Rhimes, even if this stunt would be straight out of Days of Our Lives.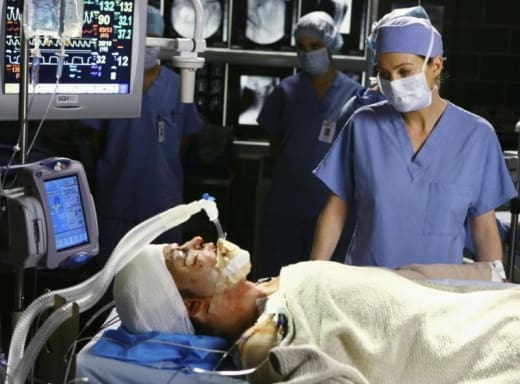 Steve Marsi is the Managing Editor of TV Fanatic. Follow him on Google+ or email him here.