Pardon the obvious pun, but we're gleeful for tonight's series premiere of Glee.
The show, a musical comedy from the creative mind of Nip/Tuck creator Ryan Murphy, airs on Fox, immediately following the final American Idol performance show.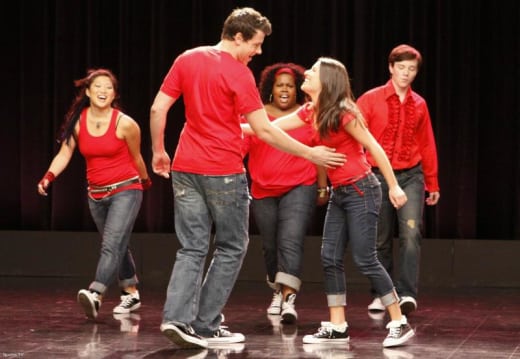 In a new interview with TV Guide, Murphy expands on his vision for this unique series:
On what type of show Glee is: We have a lot of dramatic plot lines, but this show is a one-hour comedy. But it's very much in the Alexander Payne world as opposed to something, you know — this is not a show you'd find on the CW. I think it's a little bit more adult than that.

On motivation for creating a primetime musical: I wanted to do a postmodern musical. Fox was not interested in, and neither was I, doing a show where people suddenly burst into song. I said, "Look, if they're going to sing, there are going to be three rules:
It will be done where they're on stage rehearsing or performing, in the rehearsal room, or it will be a fantasy that is rooted on the stage." I think that's one of the reasons why Chicago, for instance, was such a brilliant movie: It had rules. I was very inspired by American Idol because I think the key is to do songs that people know and interpret them in a different and unusual way.
Matt Richenthal is the Editor in Chief of TV Fanatic. Follow him on Twitter and on Google+.