Gossip Girl Spoilers: Vanessa and Chuck
by Steve Marsi at .
Okay, we posted the photo gallery already, but it's time we talked about this in detail. As you can see in the photo below, Vanessa Abrams and Chuck Bass are kissing in next week's all-new episode of Gossip Girl, "Remains of the J."
Could this possibly be an actual turn of events, or is it some kind of nutty dream sequence? Maybe they were just letting Ed Westwick and Jessica Szohr - who certainly seem to enjoy kissing in real life, as we've seen - have some fun?
Well, sources tell E! Online: "It's real, and they do more than kissing."
OMG.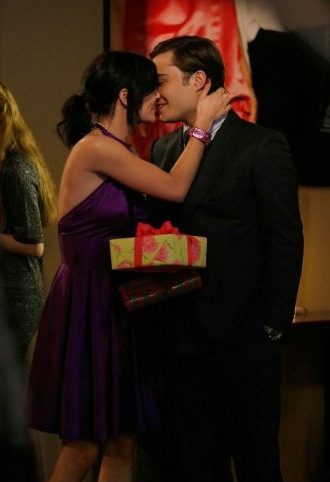 From what we've gathered so far, this is vintage Gossip Girl - part of a jealousy-inducing scheme designed to get attention with their now-reconciled exes.

According to the CW's synopsis of the episode, "In a moment of weakness, Vanessa agrees to help Chuck with a scheme having to do with Blair and Nate."

On that end, Jessica Szohr told E! recently about the prospect of a reunited Nate and Blair: "Obviously, Vanessa's a little bit hurt because that's her boyfriend, but what comes around goes around, so I'm sure Vanessa will be all right."

Trying to make Nate Archibald jealous by hooking up with Chuck Bass? Yes, that would qualify as more than all right, at least as far as drama goes.

Thoughts on this developing Gossip Girl plot line? Comment below ...

Steve Marsi is the Managing Editor of TV Fanatic. Follow him on Google+ or email him here.

Tags: Gossip Girl, Spoilers
Related Stories