Will Rita be killed on this Sunday's third season finale of Dexter?
No, according to star Michael C. Hall.
"If that does happen, I wasn't there when they shot that," the actor told E! Online.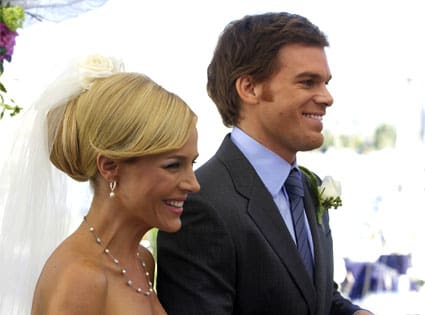 Here's a summation of views on the finale from other cast members of this Showtime hit...
C.S. Lee (Vincent Masuka): "There might be a death or two, or three. It'll be a good death, I can guarantee that."
David Zayas (Angel Batista): "Might be [crying and cheering]. The finale is going to be a lot of fun, a lot of twists; there's a lot of [blowback] from what happened in the last episode."
James Remar (Dex's father): "I believe Dexter knows the code. He knows what to do. Don't let his emotions get the better of him. Don't act out of anger. Take your time and make sure they deserve it."
Jimmy Smits (Miguel Prado): "The finale is going to be a wrap-up of all of the storylines, including what happened with Miguel Prado, of course. Dexter's in the middle of getting married right now, and what you've seen these past 12 episodes is Dexter is trying to reach out and become normal by taking on this family and taking on this friendship. I guess we'll see if that really works for this character or not."
Matt Richenthal is the Editor in Chief of TV Fanatic. Follow him on Twitter and on Google+.