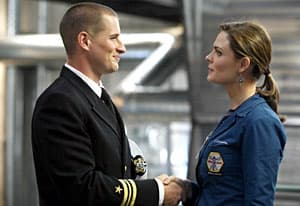 As previously reported, Brendan Fehr is coming aboard Bones this season in the role of Booth's younger brother, Jared.
On the November 12 episode of the show, Brennan will meet the sibling - and life at the Jeffersonian may never be the same.
"There's a spark between Brennan and little brother Booth," series creator Hart Hanson told TV Guide. "Since she in her own mind can't have the older Booth, maybe this younger one is a good ersatz copy. But that turns out not to be true."
However,, the primary purpose of Booth's brother is not to provide Brennan with a love interest; it is is "to shed some light on Booth, who's a guarded character," said Hanson. "For all his affability, you don't actually find out much about him. This is another way into that, and it will be fun."
Matt Richenthal is the Editor in Chief of TV Fanatic. Follow him on Twitter and on Google+.