Here's a Grey's Anatomy spoiler from TV Guide that you may not like: Rose may be no shrinking violet when it comes to getting dumped by Derek.
Given the cozy, candle-burning climax of Grey's Anatomy's Season 4 finale, it's no big surprise that Lauren Stamile's run may be nearing its end.

But this oh-so-nice nurse won't be scrubbed out quietly.
Sources reveal that when Rose learns she has been excised from the star surgeon's love life, she plays it cool ... but only with Meredith (Ellen Pompeo).
On the flip side, she is far from laid back about the whole thing with Derek (Patrick Dempsey) the boyfriend she had started to fall in love with.
"I'd count on at least one emotional outburst," said a source on the Grey's Anatomy set. "Rose is not her usual composed self with Derek."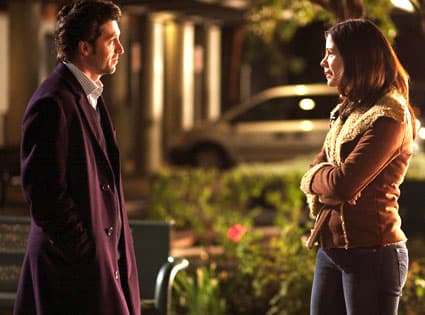 Moreover, while there has been talk that Lauren Stamile will only appear in the two-hour (!) Season 5 opener, there are also rumblings that Rose may remain a thorn (sorry for the pun) in the supercouple's side a bit longer than that.

What do you think? Do you want Rose to wither away for good, or will a little more drama strengthen Grey's Anatomy - and MerDer's relationship?
Steve Marsi is the Managing Editor of TV Fanatic. Follow him on Google+ or email him here.