T.R. Knight Not Marrying Mark Cornelsen (Yet)
by Steve Marsi at .
California has legalized gay marriage, but Grey's Anatomy star T.R. Knight and boyfriend Mark Cornelsen won't be walking down the aisle just yet.
But they are happily living together.
"Mark just moved here from San Francisco," Knight said.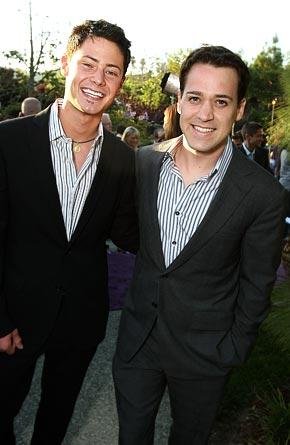 Mark Cornelsen and T.R. Knight have been together for months.

The Grey's Anatomy actor dismissed rumors they're planning to wed - and that he'll being officiating at his own commitment ceremony.

"Just to clarify, we are not having a commitment ceremony and I am not performing a commitment ceremony," he told Us Weekly.

He did laud the state supreme court's ruling and said the legalization of gay marriage in California gave him an "extraordinary feeling."

"Once you are given something that you were never allowed before, you realize how much of a second class person you were before,"

T.R. Knight

said.

"That is horrible and fantastic at the same time. It makes me want to sob and scream with joy all at the same time."

"The floodgates have been opened will never be closed," Cornelsen added.

Despite his youth, Mark Cornelsen, 19, has been receiving a warm welcome from the rest of the Grey's Anatomy cast.

"Someone in particular, I won't mention names told me, 'You know I like him more than I like you, right?'" the actor, 35, joked.

"They said it about three or four times so it's kind of not as funny as it was the first time anymore. They love him ... They're like, 'When is he coming?' They want him there."

"They're all wonderful and so sweet," Cornelsen said.

"It's amazing."

Steve Marsi is the Managing Editor of TV Fanatic. Follow him on Google+ or email him here.

Tags: Grey's Anatomy
Related Stories